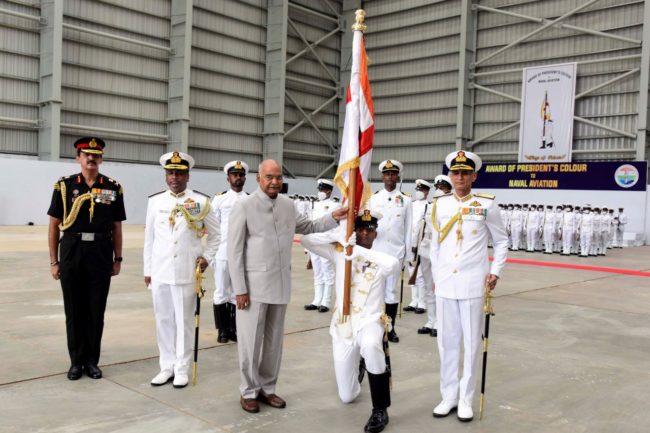 Goemkarponn desk
VASCO:
"It is indeed a proud moment for me to award the President's Colour to Naval Aviation today. It is also time to reflect on the humble beginnings and where the Arm stands today. Post-Independence, the country's leadership aptly realised that India's vast coastline required the creation of a strong and professional Navy, capable of meeting all operational requirements towards defending India's Maritime Interests. As a result, the Navy gradually progressed towards a Carrier centric Navy, with an integral Naval Aviation Arm to augment Fleet Operations at sea," he said.
The president said that the Indian Naval Aviation acquired the first Sealand aircraft on January 13 1951 and commissioning the first Indian Naval Air Station INS Garuda on May 11 1953.
"Setting up of Naval Air Technical School in 1957 and Observer School in 1960, gave the much needed fillip towards Technical and Observer training. Over the years, the Navy commissioned Indian Naval Air Squadron 550 with 10 Sealand aircraft, 10 Firefly and 03 HT-2s and added a variety of rotary wing platforms ranging from the Alouette, S-55, Seaking 42A, 42B, Kamov 25 and 28 and in later years the UH3H, Kamov 31 and the Advanced Light Helicopter," he said.
The president said the Indian Navy has invested significant effort in meeting all regional commitments and furthering our diplomatic engagements with friends and partners in the Indo-Pacific.
"While the natural tendency during COVID-19 pandemic was to look inwards, India and the Indian Navy have looked outwards. The Navy was a key instrument of India's COVID outreach, delivering assistance and support to our maritime neighbours and partners in the Indian Ocean Region. I have no doubt that, the prompt and effective deployment of the Indian Navy in the time of crisis, has underscored India's vision of being the 'Preferred Security Partner' and 'First Responder' in our region," he said.
The President further said that as we move towards becoming a five trillion dollar economy, "we must remember that no country can aspire to become an economic or regional powerhouse, while being dependent on imports to defend itself."
He said the Indian Navy has been at the forefront of indigenisation, and this is well reflected in the Navy's current and future acquisition plans, which are powered by indigenisation. In pursuance of the Government of India's vision of 'Atma Nirbhar Bharat', Indian Naval Aviation has also made steady progress in consonance with the Make in India drive.
"With resounding progress in aviation technology, Naval aircraft today, are being installed with modern, state of the art indigenous, weapons, sensors and Data Link suites. HAL manufactured Chetak, ALH, Dornier and Hawk aircraft have been in the Indian Naval inventory since the past 6 decades. Recent inductions of 16 ALH, 12 Dornier and 8 Chetak aircraft are a case in point," he said.
The President said aviation is an exacting profession and Naval Aviation's impressive flying statistics since its inception are truly reflective of the untiring efforts of a highly motivated team.
Comment