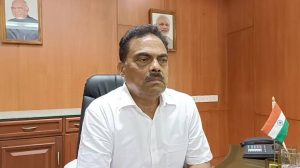 *Cannot interfere in fixing of market rates for fish as it's pure market economics says Min
Goemkarponn Desk
PANAJI: Fisheries Minister Nilkanth Halarnkar said that his department is not aware of any fish mafias operating in the market or on the jetties.
"Department is not aware of any fish mafias operating in the market or on the jetties," said Halarnkar
He further said that the Department cannot interfere in the fixing of market rates for fish as it's pure
market economics.
Minister said that the capital cost incurred towards the purchase of 5 Mobile Fish Stalls in the year
2015-16 was Rs.58,21,400/- through NFDB
funds and 4 vehicle purchased in the year
2019-20 is Rs.47,26,800/- through Blue Revolution funds.
"Department is implementing various
beneficiaries oriented State Schemes and
Central Schemes which help the fishers to
reduce their overall operational costs.
However, the fish rates depends on the
demand and supply chain in the market," he added
Nilkanth said that Department has not received
any complaints regarding illegal fishing using gelatin bombs carried out in Ganjam, Nanus, Usgao area.
The Department is aware of existing Fish Landing jetty at Khariwada, Vasco. The said Jetty requires annual maintenance due to continuous fishing activity and corrosion of M.S. Plates by sea water.
Inorder to ensure the safety of fishermen
utilizing this jetty, the Department is carrying
out the repair and maintenance of existing
fishing jetty at Khariwada, Vasco through
the Water Resource Department.
This year Government has accorded an Administrative Approval for repair and maintenance work of fishing jetty Khariwada, Vasco at an estimated cost of Rs.49,72,700/-.
The Water Resource Department has been requested to tender the work and submit the tender
document for obtaining the Expenditure
Sanction of the Government.
Comment