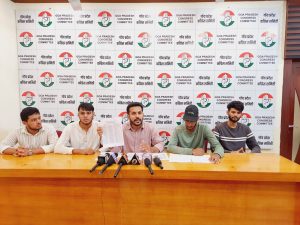 NSUI demands suspension of Kare Law College Principal for irregularities in BALLB Entrance Exam to accommodate his son
Goemkarponn Desk
PANAJI NSUI unit of Goa has demanded an investigation into the entrance exam of LLB alleging the principal of Kare College of Law has manipulated the process to benefit his son.
After meeting Registrar of Goa University NSUI President Naushad Chowdhari along with others on Monday addressed a press conference and said that Directorate of Higher education and Goa University should intervene in the matter and investigate the whole process.
"This time the entrance exam for BALLB was conducted by Kare College of Law. But they have not conducted it as per the rule, which says that evaluation of board exams and entrance exams should be done on a 50-50 basis," he alleged.
According to Naushad Chowdhari Principal of Kare Law College changed the rules to pave the way for his son, who had scored less in board exam. "Hence he didn't consider the marks of the board exam and only those who scored well in the entrance exam were given opportunities," he said.
Naushad Chowdhari said that it is illegal as per Goa University Act and Goa Board Act to set the examination papers by the Principal, as his son was answering the exam. "In this case someone else should have set the papers. This whole process is illegal. Hence we demand the inquiry," he said.
NSUI Goa demanded the following:
1)Immediate Enquiry in this matter and action should be taken against the Principal.
2)Give justice to the students by accommodating deserving students by changing the evaluation process back to the old format .
3)From next academic year Goa University should conduct the Entrance exam for BALLB to stop the irregularities by the affiliated colleges .
He said that if the government fails to investigate the matter, then NSUI will take the next step and also knock on the door of court.
"We will fight the legal battle as deserving candidates are deprived from getting admissions," he said.
Comment