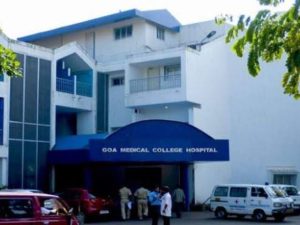 Goemkarponn Desk
PONDA: OBC Leaders have welcomed expert Committee proposal for 41 percent medical reservation at Goa Medical College for PG Courses .
Gomantak Bhandari Samaj President Ashok Naik, similarly Rashtriya OBC Mahasang Goa Convenor had urge government to immediately amend 2004 merit rules in Cabinet meeting for implementation of 41 percent reservation for PG Medical courses at GMC.
The OBC leaders said they fought lot for right of OBC and constantly conducted follow up on issue and even filed petitions in court .
OBC Commission Chairman Adpoikar who is also member of four member Committee appointed by Government Finally to study reservation for PG Courses at GMC said finally in its meeting held at Panaji on Thursday at Panajim decided to recommend proposal 41 percent reservation for PG Courses at GMC.
This include 27 percent reservation for OBCs, 12 percent for STS and 2 percent for SC said Chairman of OBC Commission Adv. Manohar Adpoikar.
He said our job over ,now next step is Goa Government cabinet has to take further decision.
It is depend upon government to take further decision in Cabinet meeting. If government want to give reservations it has to frame rules in cabinet meeting for admissions at PG courses at GMC for OBCs, STs and SC.
Adv. Adpoikar said the meeting was attended by Expirt committee members Arun Kumar Mishra,Chairman and Health Secretary, Prof. Dr. S.M Bandekar member secretary and Dean,GMC, Dr. P.V.Rataboli president of Goa Medical Council and Adpoikar as Chairman of OBC.
Rashitrya OBC Mahasangh Goa Convenor Madu Naik said the HC has struck down reservation in Oct 2021 as government failed to amend 2004 rules of merit for admissions to GMC.
Following this We made several efforts with government. He welcomed the decision of expert committee and urged Goa Government to immediately frame rules in Cabinet, notify it and provide reservation from this year only for admissions to ST,SC, and OBC at GMC for PG courses.
He said government taken decision in 2007 to provide reservation but failed to amend merit rules thus several students deprived reservations for past 16 years.
Comment