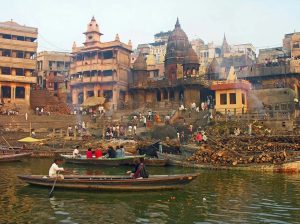 Goemkarponn desk
PANAJI: New year's eve was the busiest day of 2022 for Oyo. The company founder and Group CEO Ritesh Agarwal revealed the stats through a tweet from his official account. Agarwal revealed that Oyo received more than 4.5 lakh bookings on New Year's eve.
In a series of tweets, the Oyo CEO said that December 31, 2022 was the "busiest day of the year" for the company. In one of the tweets, Agarwal said that the company saw higher bookings in Varanasi than Goa.
"Over 450k+ bookings were made on this New Year's Eve globally. This is 35% more than last year. We are also seeing the highest bookings per hotel per day for India in the last 5 years today. #CheckIn2023," Agarwal tweeted. In another tweet, Agarwal said that "bookings from Goa are rising by the hour. But guess the city that is overtaking Goa? Varanasi."
Oyo's annual travel trends index, Travelopedia 2022, shows that small towns are witnessing the highest growth in bookings. The data from Oyo also reveals that Uttar Pradesh is the most visited state in 2022. Smaller towns and cities such as Hathras, Srinagar in Uttarakhand, Sasaram, Karaikudi, and Tenali recorded the highest increase in bookings in 2022 as compared to 2021.
Commenting on the overall surge in activity during New year's eve, Agarwal said, "Over 1M (million) people were looking to book on OYO's app & website. The price changes on our app have gone up to 12.7 million times."
Besides booking Oyo rooms, Indians have also been eating a lot and ordering from online food delivery apps Swiggy and Zomato. Sharing statistics of New year's eve, Swiggy revealed that it delivered 3.5 lakh biryani and 2.5 lakh pizza across the country on the last day of 2022. "Just hoping y'all have enough room left for the 1.56 lakh biryanis that have also been delivered," the food delivery platform tweeted. "The number of biryani orders has now gone to 1.65 lakh since I tweeted this," Swiggy further noted.
As per Zomato, it has received orders for 16,514 biryanis. "16,514 biryanis (roughly 15 tonnes that is?) on the way to where they belong right now. Big thank you to our beloved delivery partners for bringing delight to India's beautiful people," Zomato CEO Deepinder Goyal said. "56,437 chips are en route right now and should be delivered in the next 9mins," Zomato acquired Blinkit revealed order statistics on Twitter. The Blinkit CEO also revealed that a Blinkit user from Bengaluru ordered party items worth Rs 29,000.
Comment