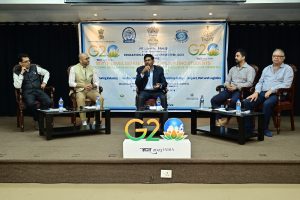 Panaji, September 2023- Following the collapse of the mining sector in Goa, nearly one third of Goa's population banks on the hospitality and tourism industries directly and indirectly for their livelihood, according to Ralph De Souza, former president of the Goa Chamber of Commerce and Industry.
De Souza was speaking at a state-level seminar on 'Addressing Skill Gaps in Goa for Accelerated, Inclusive & Resilient Growth for Graduating Students' which was organised by the Srinivassa Sinai Dempo College of Commerce and Economics in association with Akashavani-Panaji and the Goa Chamber of Commerce and Industry's (GCCI) committee on Education and Skill Development Committee.
"The impact of the tourism industry extends far beyond just travel and hotels, it also has a remarkable multiplier effect and impacts fishermen to bakers to milkmen, as their products are consumed daily. This web of interconnected activities leads to significant employment opportunities such as the shopkeeper, the local tea vendor adjacent to a hotel, as well as the numerous drivers who facilitate transport," said Ralph De Souza, who heads the De Souza Group at the state level seminar.
"This phenomenon is what contributes to over a third of Goa's population, both directly and indirectly, which rely on tourism for their livelihoods and nets substantial revenue for the government," he added.
De Souza's point was also bolstered by Saurabh Khanna, general manager of The Park hotel, one of the leading five star resorts in the state, who said that nearly 35 percent of the workforce in Goa is employed in the hospitality sector.
Speakers at the event also highlighted the gap in the skilling of the state's employable youth, while putting the spotlight on the existing gulf between jobs available in the hospitality and tourism sectors and the lack of a qualified talent pool.
In order to skill oneself to be industry ready, Prahlad Sukhtankar, NRAI Goa Chapter Head said that one needs to be constantly aware of changing consumer preferences, keeping up with the culinary trends and technological advancements.
"If the individuals are not able to keep up with the three elements, they cannot be future-ready, neither will they meet the current expectation. Furthermore, as the industry progresses, aspects such as sustainability, digital marketing and technological innovation will become even more critical," Sukhtankar said.
According to another panellist Nilesh Shah, president of the Travel and Tourism Association of Goa, soft skills are critical to the twin industries.
"These skills not only facilitate effective communication across diverse scenarios but also highlights the significance of networking in nurturing repeat business and fostering loyalty," Shah said.
Comment