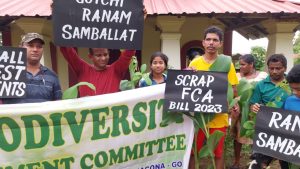 BMC Lolliem-Polem wants to turn Bhagwati plateau at hotspot of Biodiversity
Goemkarponn Desk
CANACONA – A day after PBR(People's Biodiversity Register) was approved at the Loliem-Polem gramsabha, Biodiversity Management Committee (BMC) of Loliem-Polem held Vanmahotsav (plantation drive) at Bhagwati Plateau.
Bringing its opposition to the fore, BMC asked to 'handover the plateau to us, We will turn it into a Biodiversity hotspot'.
On Sunday , BMCs 'Vanmahotshav' swiftly turned into a protest drive, with many youngsters turning up with placards shouting slogans to Save the Bhagwati Plateau from deforestation opposing any sorts of developments, and least the IIT campus. Placards such as
'Scrap all Amendments', 'Save Bhagwati Plateau', 'Goychi Ranam Sambalatt', 'Leaders Aikat Ulo Ranamcho', 'Scrap FCA Bill 2023', were some of the slogans displayed at the site, amidst the plantation driver on Bhagwati plateau near Bhagwati temple..
BMC Chairman Dattaprasad alias Manoj Prabhugaonkar alongwith other members Cajy D'Silva, Sam alias Sameer Naik, Ex-Sarpanch and panch member (Loliem-Polem Pachayat) Sachin Naik spoke against any move of the government to force any type of developmental projects on Bhagwati plateau upon the people of Loliem-Polem.
Sam said, 'Whether the elected representatives are giving life or death to the people, what makes them to play with the atmosphere, nature, are they trying to kill us by slow poison? We will not keept quiet. We will oppose this forest amendment, and if not, forget about getting water in future, we will not get even proper oxygen to breadth. With this amendment government is destroying us, all the lives on the plateau, especially the eco-system will be destroyed. This FCA Bill should not take place at-all'.
Cajy D'Silva ' the Flora and fauna, vegetation will be history in the village if Bhagwati is concretised in any manner. When talks of biodiversity are held, the first thing comes to our mind is Bhagwati plateau' Cajy also reiterated that when the issue of IIT at Bhagwati plateau hottened up 2016 and government scrapped following peoples uprising, the villagers had already resolved in the gramsabha, that there should not be any type of development on this Plateau. When we prepared the PBR of our village which people approved on Friday, we get the source of Biodivrsity on this plateau, be it flowers, fruits, animals, besides there are certain heritage things such a Bhagwati Temple, a Well, which nobody may knows who built them. So to preserve these and many other unknown heritage richness of this plateau, this site should be handed over to the BMC and we will turn it into Biodiversity hotspot of the village'.
Ex-sarpanch and panch Sachin Naik said government should not cause this type of arrogance onto people of Loliem yet again, when this IIT or any type of developments on Bhagwati plateau is rejected forthwith by the people of Loliem-Polem in 2016 itself.
When asked why this IIT is rumoured to make a comeback in Canaocna, Prabhugaonkar informed he is not aware, but one thing people in Canacona will doubly oppose this or any even other projects on Bhagwati plateau. ' when the news spread that government is building IIT permananet campus at Bhagwati plateau, thousands of people gathered to oppose it tooth and nail. Even a special gramsabha was held where more than1900 people gathered to reject the IIT, against a meagre less than 100 people favoring it.
Sam Naik stating that the village is not suitable to host the infrastructure of that magnitude, said 'Government in the name of development is running a lobby for land-scam, is attempting to destroy our village . The people of Sanguem had forced their MLA to retract from his own constituency on IIT, and after coming here in Loliem with the same 3-4 people he is telling us he (MLA) will dare to see who stops him, if he (Sanguem MLA) wants to know the unity and power of people of Canacona, than we are ready for him. We will not only oppose but will not allow such people to even step into our village', warned Sam Naik,.
Comment