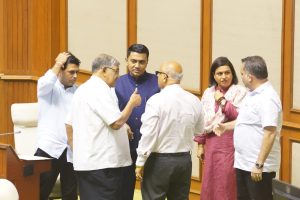 Demands 80% reservation for jobs for Goans
CM says govt coming up with law making it mandatory for pvt companies to share data on employment
Goemkarponn desk
PORVORIM: Chief Minister Pramod Sawant today said that his government is serious about job creation in Goa while stating that they have initiated a skill gap analysis.
The opposition today slammed the state government for not providing job opportunities to Goans and failure to recover data on employment from private companies. The opposition also demanded that 80% of jobs in the state be reserved for Goans.
"We are serious about Job Creation in Goa. We have initiated a study of skill gap analysis. ITI has signed MOU with Industries & ITI pass-out students are working in these industries," said Sawant.
He further said that the state government is coming up with a policy/law so that companies share their employment data.
"1, 10,000 out of 1, 20,000 registered candidates in employment are already working in some private industries. Govt will collect employment data by combing the Industries dept and Employment dept" said Sawant.
Vijay Sardesai, an MLA, questioned Labor & Employment about vacancies that were not being posted online, particularly by banks and five-star hotels.
He also inquired about the government's initiative to create jobs in the public and private sectors. He made it clear that 50% of the workforce is located outside of Goa.
Cruz Silva, an AAP MLA, questioned the government on errors in the Labor & Employment Department's data collecting. Additionally, he pointed out that Goa's government is ignorant about the amount of unemployment there.
Can the government produce a white paper outlining the percentage of jobs that will be produced in the public and private sectors through the upcoming fiscal year? said AAP MLA Capt Venzy Viegas.
He said that Government should come out with a white paper assurance of how many Goans can they employ every year.
Yuri Alemao, the leader of the opposition (LoP), claimed that data regarding labour and employment is improper. Additionally, he said that the industry minister was asleep.
"I need confirmation that 80% of the jobs in the private sector will go to Goans," Yuri Alemao LoP.
Comment