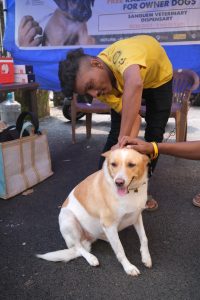 Goemkarponn desk
PANAJI: #RabiesMuktGoa's Static Point Vaccination campaign has successfully concluded in Goa, with a remarkable achievement of vaccinating over 5000 dogs across North and South Goa in less than a month. This campaign was jointly initiated by the Government of Goa, the Department of Animal Husbandry and Veterinary Services, and Mission Rabies as part of their ongoing efforts to maintain Goa as a Rabies-Controlled State. The campaign spanned 6 talukas and encompassed 110 Static Points, primarily located in panchayats and veterinary dispensaries in the interiors of Goa.
The event witnessed remarkable participation from local government bodies. Approximately 14 MLAs and 4 ministers visited various static points, sharing their perspectives and urging the public to actively engage in the campaign. As a result, all taluka displayed heightened activity in comparison to 2022.
Here is a summary of the vaccination numbers for the respective panchayats in 2022 and 2023:
Panchayat 2022 2023
Salcete 2439 2699
Mormugao 339 663
Quepem 215 367
Sanguem 242 326
Ponda 353 464
Tiswadi 425 690
Total 4013 5209
"This year's campaign has undeniably achieved resounding success, thanks to the tremendous support and encouragement from the government. MLAs and ministers actively participated in promoting the campaign in their respective constituencies throughout the month, including our esteemed Chief Minister, Dr. Pramod Sawant who inaugurated the campaign." Dr. Murugan Appupillai, Director of Education at Mission Rabies Goa, commented, "Through this campaign, we have effectively raised public awareness about the importance of maintaining Rabies-Controlled Status and the significance of vaccinating pets, especially when they are brought into Goa from other regions."
Ms. Julie Corfmat, Project Manager Goa, said "I want to thank everyone who made the effort to bring their dogs to the Static Points and took advantage of the free vaccinations. Additionally, I'd like to emphasize the importance of every dog owner in Goa bringing their dogs for vaccination when we return next year. We understand the challenges people may face, such as transportation and handling. With a year to prepare, consider working on training your dogs, seeking assistance from friends, family, or neighbours for transportation, especially for those with puppies. Familiarize your pets with travelling in a vehicle and being handled, and introduce them to walking with a harness. These efforts not only make it easier for future vaccinations but also contribute to a strong and healthy dog-owner relationship."
The #RabiesMuktGoa campaign has achieved outstanding results, demonstrating the power of community involvement and government support. We look forward to the continued participation of the community in the future, as we strive to maintain Rabies-Controlled Status by vaccinating their pet dogs and preventing unvaccinated dogs from entering our controlled state. The campaign will return in September 2024 and residents of Goa are encouraged to take part to help to achieve a Rabies-Free Goa.
Comment