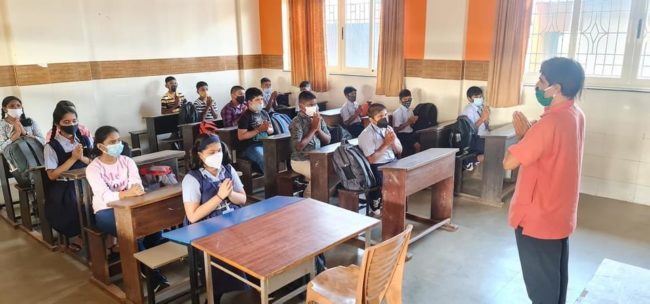 Goemkarponn desk
PONDA: Finally, two years after the first to twelfth regular classes started, which were obstructed due Covid pandemic.
Parents heaved a sigh of relief but said there was no end to their worry.
One Nayan Naik at Kavlem said two years online ruined education.
"Online education is not even fifty per cent effective. My daughter studying in seventh, finds it difficult to understand English, grammar and maths. She was promoted from fifth to sixth and then sixth to seventh," she says.
She said her daughter was promoted with online education and exams.
"She answered her online paper looking at the textbook and help from her father. But it would be difficult for her to answer offline exams as she fell behind by two years without understanding the subjects like English and Maths," she stated.
She said many students lag behind in study and need extra classes to teach grammar, maths and English.
"Due to no-detention policy, the students are promoted even though they don't understand their subjects. It will be board exam in SSC and would be difficult to answer without basic maths, English and grammar," she stated. She added, "Online education is no option for offline education, and so to compensate the two years education students should be taught extra classes in subjects like English, maths, and the subject students need help to understand".
Comment