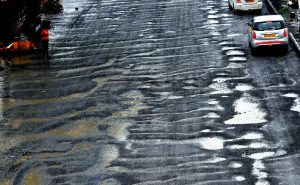 This incident comes after recent protests by the Maharashtra Navanirman Sena (MNS) about the deteriorating condition of the highway.
Mumbai: The risks involved in travelling in a bus on pothole-ridden roads became a reality for an eight-months pregnant woman, who went into labour and delivered a baby on a state transport (ST) bus along the Mumbai-Goa highway on Sunday.
The bus left from Panvel depot on Sunday evening and was headed to Mahad and was near Wadkal, Pen, when Sushila Ravi Pawar, 32, seated in the second row behind the conductor, began to complain of uneasiness.
"While she was boarding the bus, I had informed her about the bad condition of the road and asked her if it was safe for her to travel. She said she had no issues. However, as a precaution, I didn't allow her to sit in the rear part of the bus," said Namdev Pawar, the conductor of the bus.
Around 6pm, the bus, being driven by Govind Jadhav, went through the pothole-filled stretch of the road leading to Pui Masidhara bridge adjacent to Kolad bus stand when the women went into labour. Woman passengers assisted the women and in a matter of 10 minutes, the baby was born.
"No sooner did we get the call about a woman on the bus going into labor, the driver was asked to take the bus to a primary health center. However, the woman had already delivered the baby," said Dr M M Wagh, resident medical officer.
"After getting the baby's umbilical cord clamped, the mother and the infant were admitted for further treatment. The new-born was underweight, and both the mother and the baby were shifted to Alibag civil hospital," added Dr Wagh.
Last month, Maharashtra Navanirman Sena (MNS) staged a series of dharna and protests highlighting the poor condition of the Mumbai-Goa highway. The protest was especially directed on the road concretisation work of the 84km stretch of highway from Panvel to Indapur, the route taken by the bus in case.
Planting potted plants on potholes and staging protests outside the national highway authority office were some of the means used by the MNS to highlight the extensive delays in developing the highway. "This highway has claimed a lot of lives due to its bad condition and it is exactly the reason we are protesting. In this case at least there was no casualty, but the hardship endured cannot be forgotten," said an activist.
Comment