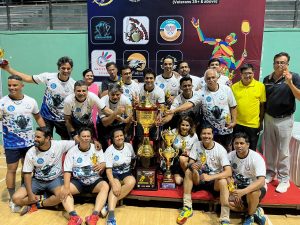 Goemkarponn desk
PANAJI: The curtains came down on the PBC Pro Badminton League, the exclusive Master's Badminton league held at Indoor Stadium, Campal, Panaji, as Terminators edged out Smash Squad 90-89 in an edge-of-the-seat finale to emerge Edition 2023 champions.
The finals comprised 6 doubles matches, 15 points each, with the team reaching 90 points first emerging as winners. Smash Squad, who had in their ranks former State champion Pankaj Naik were hugely favoured to win, but the championship title match saw a reversal in fortunes and a thrilling conclusion as Krushnan Naik and Nitin Mayenkar played near-flawless final doubles match to edge out Pankaj Naik and Minar Pandit and take their team over the finishing line. Smash Squad had to settle for the runners-up place, while PBC Gladiators and Panjim Panthers, who lost in the semi-finals, were awarded joint third-place prizes.
Earlier, in the group stages, PBC Gladiators topped Group A with 4 out of 4 wins, while Terminators came second. In Group B, Panjim Panthers similarly topped the group going undefeated with 4 wins out of 4, while Smash Squad emerged as the group runner-up. The top two teams of each group qualified for the semi-finals. Both the semi-finals witnessed upsets as PBC Gladiators and Panjim Panthers, who were the favourites to qualify for the finals, failed to fire. While PBC Gladiators lost to Smash Squad in the first semi-final, Panjim Panthers had to face defeat to Terminators in the other semis.
Special prizes for outstanding performance were awarded to Anirban Sen, Nitin Mayenkar, Krushnan Naik, Sachin Wagle, Dattaprasad Parab, Minal Kamat, Abhishek Goyal and Vrushali Cardozo. The league featured 10 teams: Terminators, Panjim Warriors, PBC Gladiators, Shuttler Club, The Falcons, Hi-Fi Goa, Shuttle Masters, Ruby Realtors, Smash Squad and Panjim Panthers. 160+ of Goa's Master's players, which included many former State champions besides National level winners, such as Sandeep Kanji, Pankaj Naik, Ashutosh Pednekar, Manjiri Moktali and Vishal Vernekar, competed in the league.
Winning Squad: Amrut Shewade, Anand Gaonkar, Arnold Rodrigues, Jeffrey Dsouza, Jitendra Dhyani, Krushnan Naik (Marquee Player), M V Amit, Marina Albuquerque, Merwyn Da Costa, Mohit Khandeparkar, Navin Cardoz, Nilesh Nayak, Nitin Mayenkar, Ramnath Shetgoakar, Shailaja Kohli, Shailesh Makaiker, Swapnil Garudi
Runners-Up Squad: Abhishek Goyal, Ajay Verma, Anand Rane, Anirban Sen, Ayoob C.K, Edwin Cortez, G Ramaswamy, Gurpreet Singh Khanuja, Kishore Raghubans, Minal Kamat, Minar Pandit, Noel Noronha, Pankaj Naik (Marquee Player), Poonam Yadav, Sarvesh Narvekar and Sashibhusan Sahoo.
Comment