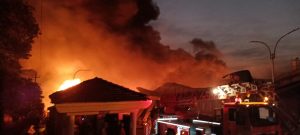 Goemkarponn desk
PANAJI: Leader of Opposition Yuri Alemao has said that the Pillerne Industrial Fire is an Eye Opener. Chief Minister Dr Pramod Sawant must stop Event Management & focus on Disaster Management.
"I appreciate the efforts of the Fire Fighters to control the fire, but the Governments' unpreparedness to handle such a situation got completely exposed,"
stated Leader of Opposition Yuri Alemao.
He added, "Last Assembly Session, I had cautioned Government on "Time Bomb" ticking at Cuncolim Industrial Estate due to negligence of Authorities on illegalities in various Units. Pillerne Fire has proved me right and once again exposed the compromising attitude of the authorities with the illegally operating industrial units, which ultimately caused accidents."
He said that a few days back, there was an Amonia Gas leakage in one of the Units of Cuncolim Industrial Estate. Government just did not bother to get to the root cause of the leakage.
"Closure of one of the illegally operating units in the Industrial Estate was recommended by GSEAC after I raised the alarm. I want to know why Industries Department, Factories & Boilers, Labour Department and others don't act on their own? Questioned Yuri Alemao adding "I demand that high-level inquiry under Retired High Court Judge must be made of the Fire at Pillerne Industrial Estate.
The same Committee should also be given the mandate to assess the situations in various other Industrial Estates in Goa regarding their compliance with regulatory conditions and readiness to face any disaster, Yuri Alemao said.
"I have replies to various Legislative Assembly Questions which reveal that there is no control of any Government Authority on any Industrial Unit in Goa. Every Department just tries to point fingers at each other. The result is a disaster like the fire at Pillerne, stated Yuri Alemao.
"Pillerne fire brought dark clouds over the Capital City of Panjim. The time has come for every Goan to think differently now. We have a choice of either living under the dark clouds of pollution or shutting down all such units and businesses which cause harm to our health. We must take a call now before it is too late," warned Yuri Alemao.
Comment