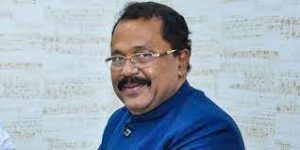 Goemkarponn desk
PANAJI:
Adv. Aires Rodrigues has today sought the intervention of Prime Minister Narendra Modi over the issue of Goa Governor P.S. Sreedharan Pillai, who, last week on 17th March, was conferred that so-called Honoris Causa PhD degree from an unrecognized and little-known Logos University International which is an unaccredited private university in Florida founded only in 2006.
Adv. Rodrigues, in his letter to Prime Minister Modi, has stated that it was the obligation of Governor Pillai to ascertain the credentials and repute of that University as he is duty-bound to safeguard the solemnity and sanctity of his very high position as Governor and also Chancellor of Goa University.
Pointing out that Logos University International is not recognized by the Ministry of Human Resource Development or the University Grants Commission, Adv. Rodrigues has further stated that there being stringent guidelines about such foreign universities, Governor Pillai should have sought the advice of the Vice-Chancellor of Goa University, but that in total breach of Protocol in his own enthusiasm, Governor Pillai went ahead with acceptance of a sham honorary doctorate.
Adv. Rodrigues, in his letter, has further urged the Prime Minister to order an inquiry by the Ministry of Home affairs since it's a foreign University not recognized by the Govt of India but possibly trying to seek legitimacy through the backdoor by influencing the Governor of a State through such cheap publicity stunts.
Further calling upon the Prime Minister to ask the central intelligence agencies to probe if this foreign University has given similar honorary degrees to any other Governors and Politicians in a bid to influence them, Adv. Rodrigues has urged Narendra Modi to direct Governor Pillai to urgently seek clarification from the University Grants Commission on the legality of his honorary foreign doctorate and to gracefully surrender it.
Demanding that action be taken against the concerned Goa Raj Bhavan officials over the glaring serious issues of breach of security for not having run a check on this foreign University, Adv. Rodrigues, in his letter, has drawn the attention of the Prime Minister that the stage-managed dubious conferring of this Degree was scandalous and smacks of a fraudulent act and that it was very unfortunate that the presence of distinguished Padmashree His Holiness Sadguru Brahmeshanand Acharya Swamiji and His Eminence Filipe Neri Cardinal Ferrao, Archbishop of Archdiocese of Goa and Daman was engineered to try and legitimize the sham.
Comment