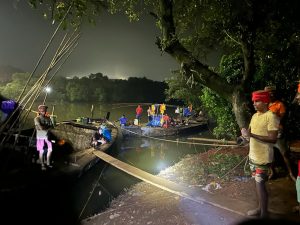 Goemkarponn Desk
PANAJI: In a major raid conducted on illegal sand activities, the coastal police seized trucks and 4 Boats loaded with sand below Banastarim Bridge old Goa and detained several persons.
The raid was conducted by police inspector Navlesh Desai in the early hours of Saturday morning.
In this, 14 people have been arrested, 8 trucks full of sand, 4 boats and valuables worth two crores have been seized. Police are investigating further.
The Bombay High Court at Goa had found that Director General of Police (DGP) and Chief Secretary have failed to comply with its orders on cracking down on illegal sand mining and have asked the two officers to explain what action they propose to take against erring officials who despite being tasked with illegal sand mining were allowing it to continue.
HC had directed the Director General of Police to file an affidavit before us ex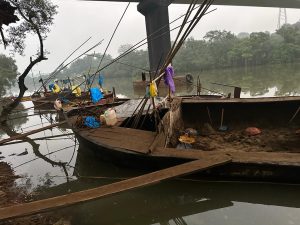 plaining not only the steps that are taken but also the steps that would be taken to crack down on illicit sand mining as requested by the DMG.
Further, the DGP must explain the action, if any, that is taken or proposed to be taken against the police personnel responsible for preventing illegal sand extraction.
The affidavit should give us details about the police personnel posted at various sites charged with the responsibility of preventing illegal sand extraction and its transportation.
Furthermore, the affidavit should state whether any explanation is called for or will be called for from this police personnel about why, despite the alleged 24 x 7 police vigil, sand mining is on the rise," the High Court bench of Justices M S Sonak and Valmiki Sa Menezes, said.
Comment