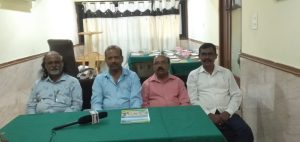 Demands police be deployed at Highways and not near bars.
Demands ban on wine shops selling chilled beer, ban on their refrigerators and provision of illegal rooms for drinking at wine shops
Goemkarponn desk
PONDA: Days after teh Goa Police declare it would increase surveilance around the Bar and Restaurants following fatal accidents due to drunken driving, the Ponda Bar & Restaurant Owners Association complained of losing livelihood.
The owners said there were two reasons for losing business that is due to police fear and secondly growing number of wine shops eating their business.
Ponda Bar and Restaurant Owners Association President Peter Fernandes along with office bearers complained that they are at loss of business due to police personnel keeping vigil near bars.
"The customer is scared of challans and secondly the some wine shops are eating into their business by doing illegal parallel business of Bar and Restaurants,"| he said.
Fernandes said after recent Banastari accident the Government started deputing police near Bar with alcohmeters as a result their customers are reduced and they are losing business.
He said this is wrong on part of government as Bar owners have obtained licenses and doing their business in their premises.
"If customers are held by Police and issued challans while leaving bar after drinking, how will he visit again?" he questioned adding as police guard is deputed, customers are staying away from liquor consumption at Bar and if one customer see police near bar he also alert ten others not to visit at Bar.
He said government should realize that police should check them on Highway before taking such drastic steps the government must take Bar owners into confidence. He said compare to olden days today most Goans consumes alcohol in moderate amount.
"We know each of our customer and if any one goes beyond limit, We drop them at their home. We too want that they should go home safely after drink and take cares that they would drink in limit," he said.
Fernandes said if people are not allowed to drink at Bar they will drink it home infront of family and childrens thus causing bad effect on them.
Secondly, he said, government should target those selling chilled bottles at wine shops.
"The refrigerators should be banned as also action be taken against provision of rooms for drinking at wines/whole sale shops," he said.
He pointed out that the wine shops or the wholesale shop owners are eating their business by running parallel business of bars.
He said the wines shop owners are licensed only to sell warm bottles but they are now keeping refrigerators and selling chilled bottles.
"There should be timing for wine shops from 8 am to 8 pm because all the time if they keep open the bar owners will at loss," Fernandes says.
He said as wine shops are open till 9 pm the customers are at queue and Bar and Restaurants are left empty.
"We pay more license fee, employ labourers but if government and excise department don't take action than our family would suffer for livelihood," he said.
He said this happens as government goes on giving licneses to wine shops/whole sale shops and thus competition for customers.
"To stop this practices government should stop issuing licenses for wine shops for two year and then only decide issuing depending upon requirement in area," he said.
Comment