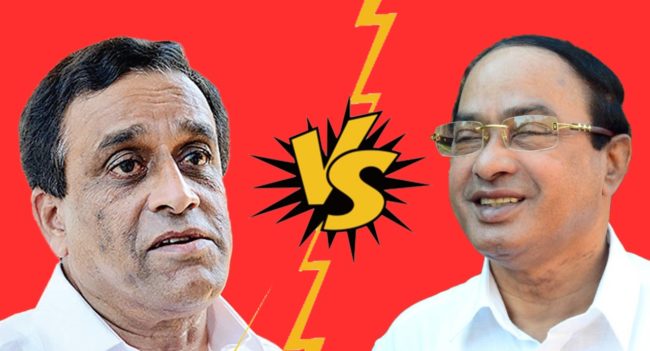 Goemkarponn desk
PONDA: The recent statement by Congress' Ponda MLA Ravi Naik that he would contest elections from Marcaim has invoked keen interest amongst the people in Ponda taluka.
The statement has become a hot topic of discussion in Ponda and surrounding areas.
While the voters feel it would be a tough battle, political pundits think there are very few chances of two giant politicians fighting against each other, whether from Marcaim or Ponda.
Though the Assembly elections are is almost six months away, the people are looking for such a battle.
Another question is whether it is feasible for the two to take such a risk at this juncture.
The announcement by Ponda Congress MLA Ravi Naik that he may contest Independent from Marcaim has been the point of discussion and talking point not only in Marcaim but entire Ponda taluka.
A voter Vallabh Naik in Ponda, says the tussle will be an interesting one, be it Ponda or Marcaim.
"The real question is will they take the risk of fighting against each other?" he asked.
According to one Vishnu Naik, Sudin is strong in Marcaim while Ravi Strong in Ponda.
"If Sudin comes to Ponda to contest against Ravi or Ravi goes to Marcaim to fight against Sudin. Definitely, one of them will have to face defeat. Also, I don't think that Ravi would go to stronghold of Sudin at Marcaim and Sudin would go at the stronghold of Ravi at Ponda," he said.
One has also to consider that Ravi is not new to Marcaim voters. He was elected from the constituency in the past but had to face defeat by BJP's Shripad Naik, the Union Ayush Minister.
After that, Sudin Dhavlikar defeated Shripad Naik, and since then, he has been ruling the constituency.
In the recent past, both leaders have been criticizing each other on development work issues, which has become an interesting point.
Their verbal dual has reached such a level that both have challenged each other to submit their balance sheets before entering politics and the current balance sheets.
However, political experts believe this is just a publicity gimmick and cannot afford such a step when both are sure of victories in their respective constituencies.
"The challenges and debates are to gauge the voters' mood and get attention from party supremo. The real picture could be known only after the elections are announced," experts say.
Though it is being speculated that Ravi Naik's son Ritesh Naik is likely to contest from Ponda on BJP ticket and Ravi Naik would contest Marcaim as an Independent candidate, nothing has been finalized yet.
Comment