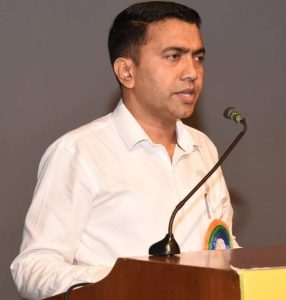 Goemkarponn Desk
PANAJI: Soon Online facilities will be available to avail labour card informed Chief Minister Dr Pramod Sawant. He was speaking  at  Shram Gaurav Shramik Mitra award 2023  on the occasion of International Labour Day organized by Office of the Commissioner, Labour and Employment and Disha Foundation at Panjim today.
Chief Minister further said as promised in the budget 2023-24, it is mandatory for every labourer to have labour card so that the labour  department will have information about where they are hailing from and their past activities. Chief Minister also appealed the Labour Association and Union Association to promote about labour card to the labourers on the construction site.
Speaking further CM said Fixed term employment bill has been passed wherein provision has been made by Labour Department so that services of the workers can be passed on to other  industry. CM also announced that State Level Function will be held every year with larger crowd gathering on International Labour Day.
Provision of around 500 crore is made for Construction Workers Welfare Funds, he said and directed Labour Department  to utilize this fund for the welfare of construction workers every year. CM also informed that henceforth experience in private sector will also  be counted for the selection of staff in Government Sector.
Minister for Labour and Employment Shri Atanasio Babush Monserrate who was also present on the occasion extended his greeting on International Labour Day to all the labourers across the world. Shri Monserrate said our country has made progress at all levels i.e Industries, agriculture, pharmaceuticals, etc.
India is progressing along with other countries in the world and we cannot forget the contributions made by workers pro working people to the development of the sectors. Shri Monserrate urged to work together to make all efforts to make cordial industrial relationship to achieve economic growth of Goa and Country.
The Department of Labour will take all efforts to resolve the differences and disputes, if any, between employer and workers to ensure healthy industrial atmosphere and welfare of the workers is taken care of and are not deprived of welfare benefits, he added.
Shri Monserrate also assured that Labour Department will make all efforts to protect the rights of workers and employers.
Comment