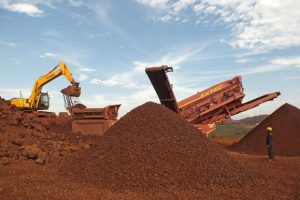 *Vedanta Limited has approached Centre for prior EC for production of 3 million tones of ore from the lease annually
Goemkarponn Desk
PANAJI: As a step towards resumption of iron ore mining activities, the environmental public hearing for Bicholim Mineral Block is scheduled on August 11. The mining firm-Vedanta Limited has approached Centre for prior environmental clearance (EC) for production of 3 million tones of ore from the lease annually.
Goa State Pollution Control Board (GSPCB) will on August 11, conduct the public hearing on the Envi- ronment Impact Assessment (EIA) of the Bicholim Mineral Block I at 10.30 am at Narayan Zantye Multipurpose Sports Complex, Sarvan, Bicholim.
The mineral block with an area of 478 5206 ha is located across Bicholim, Bordem, Lamgao, Mulgao, Mayem and Sirigao villages. The Bicholim lease is valid for 50 years.
The proposed mineral block area is having about 84.743 million tonnes of mineral reserves & resources. The life of the mine will be 30 years which may enhance based on the future results of en- ploration planned during the Min ing Plan period.
"Mining operations will be by way of mechanized opencast method without drilling & blast ing, complying with all the statu- tory requirements using heavy earth moving machineries like tivities, it said. rippers and dozers, shovels, dumpers, wheel loaders, and tippers," the project proponent said.
The firm stated that the ore transportation from mine to the jetty will be carried out by tippers with the capacity of 10.5 tonnes: Most of the transportation will happen through company owned dedicated road while only 900 meters of Village road will be used.
The company said that the min- ing operation will provide direct employment to 250 which includes mine officials, skilled, semi-skilled and unskilled labour and about 195 indirect employment opportunities to the locals.
"Over and above this, a lot of employment will be generated in the form of contracts such as transportation, plantation, work- shops and garages, and allied activities," the firm said.
The hearing will be conducted to know the concerns of the af-fected persons, who can express port markets their views or seek information or clarifications from the project proponent.
Comment