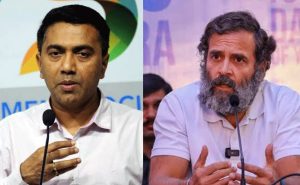 Goemkarponn Desk
PANAJI: Goa Chief Minister Pramod Sawant expressed his opinion in response to the recent Gujarat High Court verdict in a defamation case against Rahul Gandhi, stating that the Congress leader should refrain from making irresponsible statements.
Sawant stated that there are currently ten similar cases pending against Rahul Gandhi in various courts. Protesting against the High Court's decision, according to the Chief Minister, is also inappropriate.
"I think Rahul Gandhi should stop making such irresponsible statements. The High Court has said that 10 such cases against Rahul Gandhi are going on in different courts…protesting against HC order is not appropriate.," said Sawant
The Gujarat High Court cited another defamation case filed against Rahul Gandhi by the grandson of Vinayak "Veer" Savarkar.
"It is needed to have purity in politics… A complaint has been filed against (Rahul Gandhi) by the grandson of Veer Savarkar in Pune Court after Gandhi used terms against Veer Savarkar at Cambridge," it said.
"Refusal to stay conviction would not in any way result in injustice to the applicant. There are no reasonable grounds to stay conviction. The conviction is just, proper and legal."
The High Court said there were "as many as 10 cases pending" against Rahul Gandhi and he was "seeking a stay on absolutely non-existent grounds". A "stay on conviction is not a rule", said the judge.
Rahul Gandhi, 53, was handed a rare two-year sentence in a defamation case in Gujarat on March 23 for his speech during the 2019 Lok Sabha campaign. BJP MLA and former Gujarat minister Purnesh Modi filed the case over Rahul Gandhi saying: "How come all thieves have the common surname Modi?"
The Congress leader, who was the Lok Sabha MP from Wayanad in Kerala, was disqualified soon after.
Comment