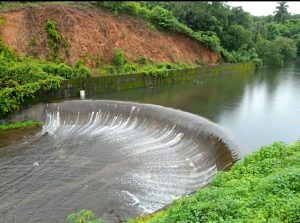 Goemkarponn desk
CANACONA – With both the Dam's (Canacona lifeline) brimming with water all over, Canacona receives over 4 cm of rainfall in less than 24 hours on Thursday.
Intermittent heavy rains lashed Canacona again since Wednesday night, as the seasonal rains are reaching breach 105 inches crossed mark early Thursday day morning.
Incidentally, rains have been lashing heavily since the past week
Beginning last Friday -Saturday night, rains almost battered the taluka throughout, with heavy rains early Thursday morning causing waterlogged roads and several low-lying areas, especially the commercial hub of Chaudi, flooded in Canacona early morning. The rains, however, subsided by afternoon but continued in some pockets of the taluka.
However, schools, other educational institutions, banks, and government offices function normally, with very few visitors.
According to Taluka observatory, Chapoli dam, with storage of 1123.29 ham, continues to overflow at 38.76 RL.
Similarly, according to sources, the Gaunem Dam (yet to be commissioned) in Gaondongrim village is also brimming with water and has resumed overflow after its Reservoir is full yet again.
Gaunem Dam, which has a catchment area of 1.35 Sq.Km begins to overflow at 63.54 and has a storage capacity of over 177.00 Ham water.
Incidentally, Gaunem Dam, as a Minor Irrigation Tank expected to give a boost to the localities of Gaondongrim and Khotigao villages, was completed way back in the year 2017, without any provision for the supply of water for either Irrigation or Domestic purposes, continues to be unused/ commissioned.
With the intervention of Ex-Dy Speaker and Ex-Canacona MLA Isidore Fernandes, works for the distribution of supply (laying of pipeline and storage overhead tanks), besides Canals for irrigation purposes were initiated, but reportedly continue to linger on, as none are benefited from Dam, informed sources.
With the forecast predicting more rains in the days to come, WRD sources informed the taluka has already inching close to 105 inches benchmark of the seasonal rains.
Comment