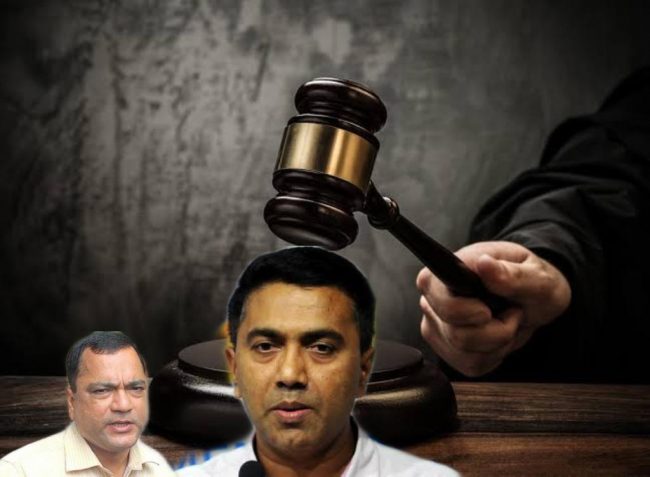 Goemkarponn desk
PANAJI: In yet another blow to BJP-led government's plan to postpone the panchayat polls, the Bombay High Court at Goa today dismissed State's plea seeking time till September 12 to complete the election process. As such, the entire election process of the 186 panchayats will have to be done by August 12.
The State Government had on Wednesday moved High Court with an application seeking 30 days additional time to conduct panchayat polls citing that the process will coincide with the functioning of the State Legislative Assembly, whose monsoon session is scheduled from July 11-August 12. It also pointed out the Ganesh Chaturthi festival scheduled on August 31.
Slamming the government and the State Election Commission for violating the constitutional mandate by delaying the polls, the Court had, on June 28, had directed to issue a notification with poll date within three days and to complete the process within 45 days.
The State contended that it is ready to issue the notification as per HC directions but pleaded that SEC is directed to issue a code of conduct only after the Assembly session ends on August 12.
The elections to 186 panchayats were due before June 18.
"Suffice to record that the two reasons now cited by the State Government are neither the reasons on which the Hon'ble Supreme Court has permitted some deviation from the constitutional mandate of Article 243-E nor can we say that these are good and substantial reasons to exercise our discretion to extend the election process any further," the HC said
The Court observed that the application is not moved by the SEC and that the election body is eager to hold the polls at the earliest.
"The ultimate responsibility for the conduct of the elections is of the SEC. This application is not made by the SEC. Instead, the SEC maintains that it is both eager and competent to complete the election process. The correspondence and the interactions between SEC and the State Government are discussed in the main judgment delivered on 28th June 2022," it said.
The learned Counsel for the original Petitioners pointed out that the reason involving the Budget Session is not genuine. Therefore, the same was neither referred to in the affidavit filed by the Director nor were any arguments advanced on 27th June 2022.
They submitted that the Vote of Account was already passed on 1st March 2022.
They also tried to point out the Rules of Procedure and Conduct of Business of the Goa Legislative Assembly and the instances in the past where such situations were overcome.
Comment