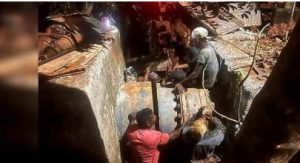 Goemkarponn Desk
PONDA: Two days ago the pipeline at Ganjem Bhandara which supplying raw water to OPA treatment Plant was repaired and restored as also raw water supply to OPA plant resumed today.
The 1000 mm dia pipeline was burst suddenly after which huge quantity of water wasted into drains. The WRD team immediately took repair work with help of several employees and it was restored today morning. Following this the supply of raw water was also resumed after few hours.
The water level was reduced to 2.70 meter at OPA yesterday after raw water supply line from Ganjem Bhandara was burst Yesterday. There after three Bhandaras on Dudhsagar OPA river relased water stored from three Bandharas at Collem to maintain sufficient level for pumping.
It is learnt that 3 meter to 3.5 meter level at OPA river essential for normal pumping. The OPA plant rely on Salaulim dam water and Ganjem Bandhara water for treatment and supply of water to Ponda and Tiswadi Taluka.
Beside this OPA river have 24 Bandharas that stores water for summer requirment , however some of Bandhara water has been already opened to maintain water level at OPA. Today evening the water level measured at OPA was 2.90 meter after Ganjem Pipeline restored it's water supply after repair works.
After working all day and night on Wednesday, the main feeder pipeline of the Opa plant that burst on Bondla Road has been replaced. The 1,000 mm pipeline, which supplies water from Ganem to Opa, has been put in place and water has been released
Comment