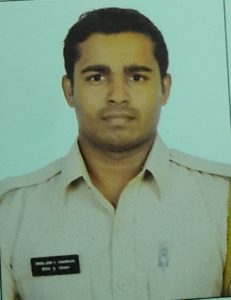 Every year on October 21 the grateful nation remembers sacrifices of ten valiant police personnel's who died down their lives while defending the integrity of our motherland at Hot Springs (Ladakh)in Jammu and Kashmir. These Policemen were killed in ambush laid by heavily armed Chinese troops, who had violated Indian territory in Aksai Chin.
Since the middle of 1959, the frontier had suddenly become active on account of transgressions by Chinese troops. However, on October 21, a Police party led by Karam Singh, DCIO, was ambushed by Chinese troops equipped with a automatic weapons and mortars. The Indians Policemen, who were armed only with rifles, held their ground till they were overpowered by hostile force resulting in death of 10 and capture of 9.
The entire Indian nation mourned the martyrdom of these policemen in an unequal encounter with Chinese Troops of Indian Territory. The dead bodies were handed over by the Chinese on November 13 and were
cremated at Hot Springs (Ladakh) the next morning at 08.00 hours. The Police Forces assembled at every District Headquarters in the Country in ceremonial parades to mourn the sacrifice of these valiant soldiers.
Later the Heads of all Police Organizations of India decided (1960) that every year 21st October would be observed as Police Commemoration Day in all Police Lines throughout India to commemorate the martyrdom of the Policemen at the altar of duty. On October 21st 2021, the Hon'ble Prime Minister dedicated a National Police Memorial at ChanakyaPuri in New Delhi in the memory of all such policemen who have unflinchingly laid down their lives at the altar of duty.
Goa Police too has been serving the people of Goa selflessly and unflinchingly and is proud of its martyrs, who laid down their lives to uphold the pledge they took during their training. Significantly, on the occasion of Police Commemoration day it will be a fitting tribute to our heroes namely late Head Constable Shri Balaram B. Shinde, late Police Sub-Inspector Shri Abhishek Sher-Ali Parvez Gomes, late Police Constable Shri Shailesh K. Gaonkar and late Police Constable Shri Vishwas B. Deykar who laid down their lives at the altar of duty. A brief life sketch of these Martyrs is given below:-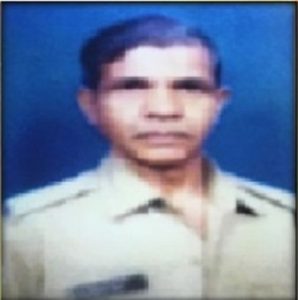 LATE SHRI
BALARAM B. SHINDE
Late Shri Balaram B. Shinde, Head Constable B.No.1258 was an honest and a dedicated Policemen. He was born in a small village Sarawali in Kholapur district of Maharashtra. After passing his SSC in 1969, he was selected for the post of Police Constable in the Goa Police, Due to his dedication and devotion towards his duty Shri Shinde was liked by superiors and rewarded for his honesty and hard work. He was promoted has the Head Constable in 1985. Shri Shinde served at all the important Police Stations in Goa.
In 1999, during the course of an agitation by few locals of the surrounding villages against the upcoming Meta Strips Factory at Sancoale, Shri Shinde was posted at the Police Out-Post, Cortalim. He had the confidence of the locals and was capable of handling them.
However, on March 4, 2000, at around 16:00 hrs, while Shri B. Shinde was on duty at the Cortalim out-post, an unruly mob encircled it and locked up a few of his colleagues into one of the rooms. Shri B. Shinde resisted the mob and tried his best to convince and control the mob. He was assaulted and was inflicted with life threatening injuries that rendered him unconscious. A few well-wishers of the locality helped him and informed senior Officers who were getting the road cleared. He was immediately shifted to GMC, Bambolim where he remained in coma till he breathed his last on April 23.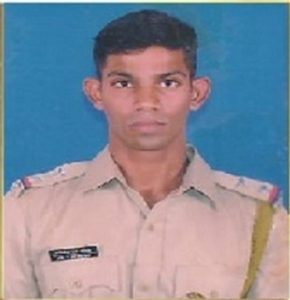 LATE SHRI ABHISEK SHER –ALI PARVEZ GOMES
Late PSI Shri AbhisekSher-Ali Parvez Gomes, resident of Margao was directly recruited Police Sub-Inspector, who had joined the Police Department on September 7, 2006.
On March 16, 2013 he alongwith Police Constable Shri Maruti Dhupwadkar were on traffic duties at Ponda. At around 07:30 hrs at Amigos Junction, Curti Ponda they noticed a speedily driven truck and signalled it to stop. The truck driver evaded the signal and did not stop and sped away towards Borim side nearly knocking down the PSI. On suspicion the PSI quickly jumped on his official motorcycle to intercept the truck.
After hot chase he managed to overtake the truck and signalled it again to stop. However, the truck driver did not stop for the second time and instead of halting, the driver sped past and knocked down the motorcycle and the PSI, Gomes was dragged alongwith the motorcycle to a distance of about 20 meters from the accident spot. He sustained grievous injuries including torn leg on the spot. He was initially admitted to I. D. Hospital, Ponda and thereafter shifted to Goa Medical College, Bambolim. However, PSI-Gomes unfortunately succumbed to the injuries while undergoing treatment. PSI, Shri AbhisekSher-Ali Parvez Gomes of Traffic Cell, Ponda was intentionally killed by the truck driver while he was discharging official duty.
LATE SHRI SHAILESH K. GAONKAR
Late Shri Sailesh K. Gaonkar, Police Constable PC-7407 son of Kushali Gaonkar and Kushawati Gaonkar of Goa Police Department was born on 7th August in the year1991 in Margao, South Goa. Further he joined Goa Police Department as a Police Constable on 20th September 2013. He completed his basic training at Police Training School, Valpoi and had been working as Police Constable at Colva Police Station since 07/07/2014 performing his duties diligently.
On the intervening night of 16/01/2022, Shailesh Gaonkar, Ex-PC-7407 who was attached to Colva Police Station was performing nakabandi duty/Static Surveillance point in view of Assembly Election duty at Seraulim Salcete Goa. While performing his duties he was dashed and dragged away by vehicle Skoda Rapid bearing No. GA-05-D-6430. The driver of the vehicle drove the vehicle in a rash and negligent manner and he was under the influence of Alcohol. Shailesh Gaonkar, Ex-PC-7407 sustained grievous injuries to his body. He was immediately shifted to District Hospital Margao where he was declared as brought dead by Medical Officer on duty.
Comment