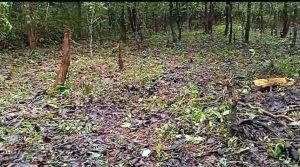 Goemkarponn desk
CANACONA: "You have the government on one-side appealing to plant more and more trees, and Minister/MLA's making show-off by distributing saplings, plants, while on the other hand, the government's authorised department supposed to protect the forests are itself out in destroying Forest's natural cover; where does one go to ask for justice for the forest department destroyed forest cover?', asks Devidas Gaonkar, a tribal activist from Khotigao village.
According to Khotigao villagers, the forest department engaged workers to cut some big plants, chopped up several bushes, and even cut down some trees, and used cut-out plant stems as posts/poles erect fencing, destroying thousands of square metres of forest cover having rich and valuable natural habitat. This type of forest act had not only displaced the animals but had also caused a severe ecological imbalance of highly invaluable rich biodiversity of the Forests itself.
'Government is spending lakhs and Crores of rupees to protect/maintain and increase the Forest cover. However, the forest department entrusted with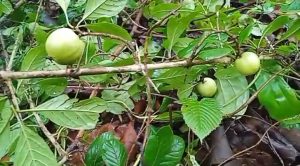 these tasks is instead out to destroy and finish the natural forest covers. This situation could be seen at Yedda in Khotigao village of Canacona taluka. Here, the Forest department
has cut and destroyed natural forest cover in thousands of square metres of land. The reason they say is to plant some new saplings/Plants'. Gaonkar informed
Speaking further, Gaonkar informed 'some eight years ago, the Forest department has created a similar situation in Khotigao village, whereby they had chopped off natural habitat, especially bushes with high medicinal values and other benefits, including the food of animals; were razed down arbitrarily and destroyed only on the pretext that they (Forests) had then declared that some parts of the forests as Reserved Forests, Research Forests, besides some other types of classifications, and to understand these divisions, they have also dug-up some trenches, erected rouble-stones compounds, and even did some fencings in the forest lands. Tell me one thing, creating such divisions/separating forested lands with trenches can be understood by humans, but how do the animals or, for that matter, forest habitats know or understand and survive in such types of artificial divisions, causing inferences in their movements? Don't they (the forest department ) have some sense? How will they protect the forest habitats by such measures," questioned an aggrieved Gaonkar.
Another resident Brijesh Dessai, 'If such is the attitude of the Forest department, how one can expect this forest department to protect our forests, its flora and all the forest habitats?
Brijesh Dessai, pointing to the vast destruction of forest cover, informed, ' We can see how Forest personnel have cut some of the Trees and several big-big plants, and we are told that some new trees and plants will be grown in this land. If we as residents cut anything for our needs, Forest officials come to book us, but when the forests themselves cut thousands of trees and plants, who will have to take action on them? When thousands of sqm of forest cover is turned into barren open land, where will the animals stay? The natural forest plants, some of which are a food source to forest habitats, would have grown big in 2-3 years. Now, having no forest cover to live, these animals have already started to come to the villages/residential localities, destroy our fields/cultivations, and create all sorts of problems for the residents as the forests are cleaned.'
Residents stated though the forest officials are well trained, know the laws and rules, and have all the forest knowledge and are supposed to protect the natural forest cover, but are still doing such acts, have demanded disciplinary action against the erring forest officials responsible for causing ecological damages in the forest land.
Comment