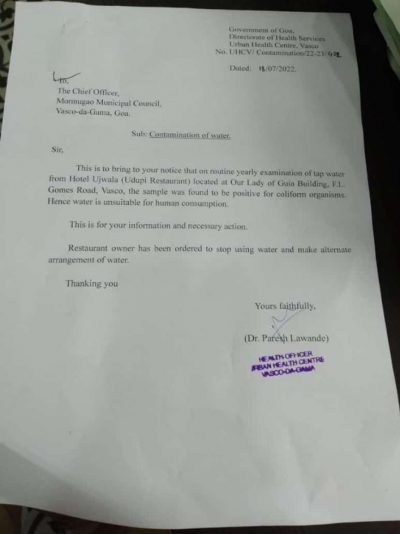 Goemkarponn desk
VASCO: Residents of Vasco are worried over the tap water contamination of a restaurant from Vasco.
The restaurant owner has been ordered to make alternate water arrangements in his restaurant by the Urban Health Centre Vasco.
There is a likely disaster regarding the health of the citizens in the making in Vasco town. As per the available information, a letter addressed to the Chief Officer by the health officer of Urban Health Centre Vasco dated July 18, a restaurant from Vasco near F.L.Gomes road, has come under the scanner of the Health services department.
As per the letter, during the annual routine testing of the tap waters from a restaurant from Vasco, the tap water was found positive for Coliform organisms which the doctor stated is unsuitable for human consumption. The Health Officer has directed the Restaurant owner to immediately stop the use of the tap water and make an alternate arrangement of water to be used in the restaurant.
Local citizens from Vasco were also irked about this issue and raised concern for the well-being of those who consume water from their taps.
Deepak J.Singh, a local from Vasco, said that the information that a well-known restaurant's tap water is contaminated is itself scary. It is the duty of the Health Department and the Food and Drugs Department, along with the Mormugao municipality, to investigate the matter.
He further said that the PWD water supply pipeline needs to be inspected for any seepage or whether the water flowing from this pipeline is contaminated or not for the people to consume. Because the PWD water being supplied is contaminated, this will lead to a bigger health crisis.
Another local Advocate Sunil Loran said that such issues should not be taken lightly as it is related to the health and well-being of the people who often visit these restaurants.
He further said that the Health Department personnel must check the tap water of all restaurants and households getting water from the PWD pipeline. The source of the contamination needs to be identified," he said.
Meanwhile, when contacted by Mormugao Municipal Council Chief Officer Jayant Tari, he said that he got a letter from the Health Officer of Urban Health Centre Vasco in which the Health officer stated that the tap water of a restaurant from Vasco had been found contaminated with Coliform organisms. The restaurant owner has been barred from using the tap water and ordered to make an alternate arrangement of water in his restaurant.
The chief officer further added that he has been informed by the Health officer that one more time, the tap water samples will be tested to double confirm the contamination. Seepage of the sewerage line might have caused the contamination of water. We are waiting for that second report, and if the contamination is again found in that tap water, then further necessary action will be taken,' Tari added.
Comment