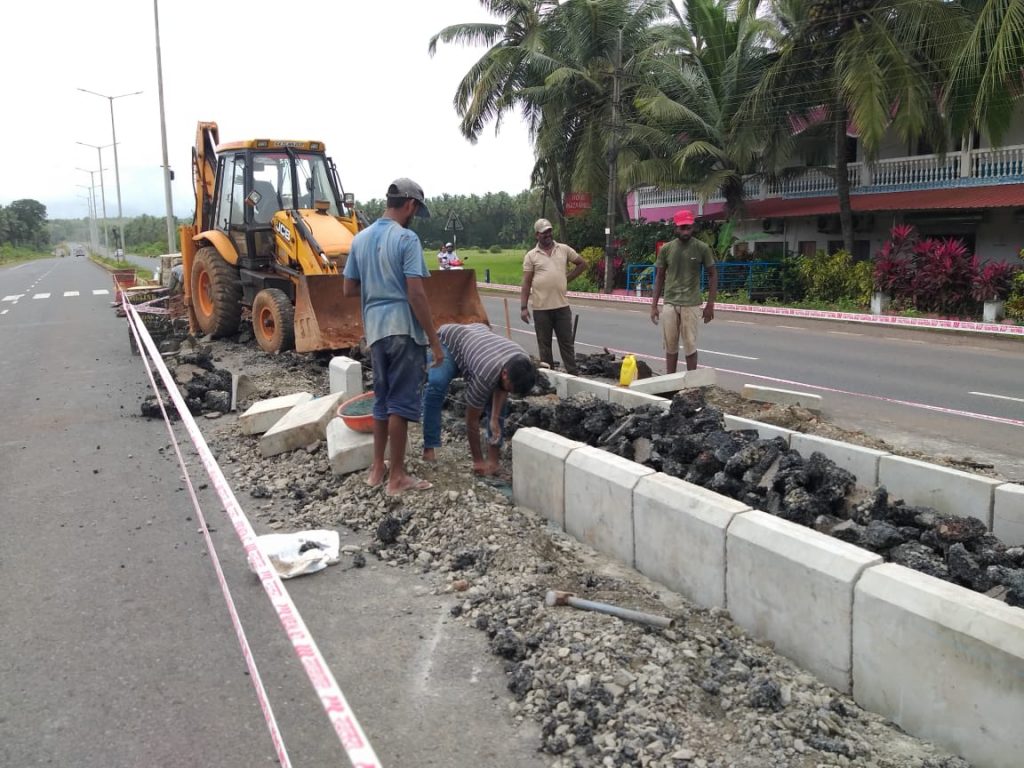 Goemkarponn desk
CANACONA – The alleged illegal road crossing at Kolsar-Galgibaga, which has turned out to be a borne of contention as 15 accidents at the venue on Manohar Parrikar Canacona Bypass Road (MPCBR), is finally taken up for closure after the public outcry.
The construction works to erect the Road-Divider near Hotel Matoshri at Kolsar Galgibaga have been taken up by Road contractor MVR under the supervision of PWD(Highways), Canacona, on Thursday.
As a JCB is engaged to construct a trench between the 4-lanes, manpower is used to erect the Dividers at the 22-metres stretch kept open to allow traffic to cross -over on either side.
Locals have alleged 15 Mishaps have been accounted at the illegal crossing resulting in two deaths, several injuries besides, and damages to several vehicles, including two-wheelers.
As the works began on Thursday morning, police provided cover to regulate the racing traffic on either side of the one-Way 2+2 lanes.
PWD (Highway) Junior Engineer Nagraj Adpaikar supervising the works, informed the 22-m long Divider is being constructed by the contractor M V R at its own costs and expenses, and PWD will make no expenditure on it. MVR, which has constructed the 7.74 Km Char-rasta to Maxem 4-Lane Expressway, later christened as Manohar Parrikar Canacona Bypass Road (MPCBR), will carry out the maintenance works for 4 years.
According to sources, the original drawings of the 7.74 4-Lane roads had no road crossing provisions, but as locals alleged, the opening was made, and the crossing was facilitated near Hotel Matoshree, Kolsar-Galgibaga.
Locals now call for fixing of responsibility for the lapse, which led to 2 deaths and several injuries that took place at the crossing.
Comment