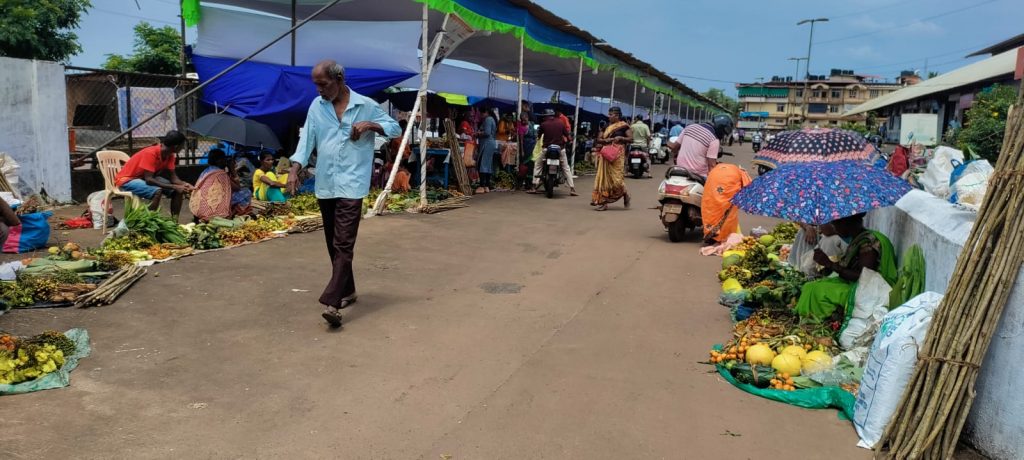 Goemkarponn desk
CANACONA – The State sponsored Atmanirbhar Chaturthi Bazaar at Chaudi in Canacona on its penultimate day lacks buyers, whereas the satelite Matoli items roadside markets make a brisk sale in the taluka.
A number of locals, many of who are from the indigenous community selling various Matoli items, are doing brisk business on Canacona roads. Incidentally, the local sellers are seen occupying the specific joints in Highway and village roads in Canacona, and most of them are reportedly doing brisk business.
The vendors are plenty, whereas only a few visits the ambitious State Government sponsored Atmanirbhar Chaturthi Bazaar set up great pomp at Chaudi.
The vendors decry the lack of buyers or even visitors at the Bazaar felicitated at KTC Bus stand since it was inaugurated 8 days ago by GLA Speaker Ramesh Tawadkar.
'A few of the buyers who come to enter the pandal instead buy their requirements from the vendors who are sitting outside the pandal, whereas we are helplessly squatting with our products to sell', complained a woman vendor occupying a plot inside the pandal of Atmanirbhar Chaturthi Bazaar at Chaudi.
"There is enough space/plots available in the pandal whereas these women keep their items outside the pandal and at the entrance itself, as the very few who comes buys from them and goes away", the woman added.
'There is no one to regulate such activities, while if we utter a word to correct them, we are told to shut our mouth and wait for customers to come to us ', said another vendor occupying the Atmanirbhar Chaturthi Bazaar pandal.
"We are bringing the items after early morning visits to the forests and sits to sell, but most of these last few days we are returning back without much sales", informed a man who also had seasonal fruits and vegetables to sell.
Incidentally, while indigenous community sellers continue to occupy streets with their collections of Matoli items, as they were doing it traditionally right from Loliem-Polem, Poinguinim, Shrishthal, Agonda saw occupying either the Highway road or Main District Road passing through their villages, all are reportedly getting their regular buyers, unlike only a few visits the Atmanirbhar Chaturthi Bazaar at Chaudi.
The vendors are Atmanirbhar Chaturthi Bazaar; however, expect the sale of their items to pick up on Tuesday, the last day before Ganesh Chaturthi begins on Wednesday.
The Matoli items consist of various indigenous as well as Agricultural and horticultural, besides wild leaves, fruits, tubers, creepers, roots, shoots, herbs, some of which are eatables, and most non- eatables make up for the hundreds of such different and unique items used to decorate the Matoli erected over the head Ganesh idol worshipped in households.
Comment