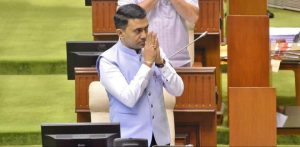 Goemkarponn desk
PORVORIM: Chief Minister Dr Pramod Sawant on Wednesday admitted there was a scam detected in the State Excise department.
Replying to the question tabled by Leader of Opposition Yuri Alemao, Sawant said that the the scam was regarding renewal fees.
"Excise Department has detected a case wherein license renewal fees of some license holders have not been deposited in the Government treasury though the Excise Licenses were renewed as if the license fees have been paid," he said in a written reply.
Sawant said a preliminary inquiry was conducted by Excise Department and three officials Viz Shri Harish P. Naik (U.D.C.), Durgesh S. Naik and Vibhuti Shetye both Excise Inspector have been placed under suspension pending inquiry.
The charge on the UDC Harish P. Naik, is that of misappropriation of funds of license renewal fees and the charges on the Excise Inspectors is of dereliction of duties.
"Recovery of Rs.27,78,150/- along with interest has be made," he said.
He said the total licences including seasonal licences which were renewed without receiving licence fee were 76 and the licence fee was Rs. 16,86,690/-.
"Further, interest of Rs.10,91,460/- has also been recovered @2% per month from due date till 23/06/2023. Hence the entire amount has been recovered along with interest. Only 9 licences are not renewed for 2023-2024. Notices are being issued," he stated.
Comment