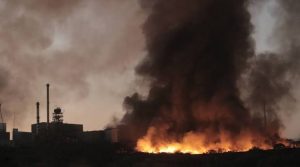 Goemkarponn Desk
ST INEZ: Chief Minister Pramod Sawant today said that the Directorate of Fire and Emergency Services (DFES) attended to 7000 plus phone calls last year and around Rs 81 crore property was lost.
CM Sawant was addressing the gathering on the occasion of National Fire Service Day at the Directorate of Fire and Emergency Services at St Inez.
"The DFES has done a commendable job. Last year DFES received 7000 plus emergency calls, also 9 fake calls, 10 human lives lost due to fire, 7 human lives saved," said Sawant
He further said that Rs 169.53 crore worth property was saved from fire and Rs 81 cr property was lost due to fire.
"Directorate of Fire and Emergency Services has also got ISO and Occupational Health certification which is a proud moment for us Goans," he added
The department also trains Apda Mitra and Apda Sakhis volunteers who are deployed for disaster management as and when the need arises. Directorate of Fire and Emergency Services is among the few Fire Service Departments in the country who have received ISO 9001 certification for Quality Management System and ISO 4501 Occupational Health Certification.
The department has been recognised as Regional Training institute by Home Ministry and national and international candidates have been taking training at the institute, informed CM Pramod Sawant while speaking at the National Fire Service Day function in Panaji.
The department recruited 189 fire fighters recently, more recruitments are also on cards, he added.
The Government of India has recommended a Model Bill 2019, so that there is broad uniformity across the country for Fire and Life Safety Regulations.
The department had proposed to the government for adopting the bill and the proposal is at the final stage for getting the legislative approval," he added.
Prizes were awarded to the students who stood 1st, 2nd and 3rd in the Poster Competition in both Groups on 14th April 2022, National Fire Service Day at the hands of Dr. Pramod Sawant, Chief Minister of Goa in presence of Nitin V. Raiker, Director, Fire & Emergency Services.
Commendation Certificates for exemplary performance in the field of Rescue Operation, Good Discipline & General Behaviour and Devotion towards Duties were also awarded to the various ranks of the department administrative & operational fire personnel.
The Department had organised Live demonstrations of Fire Fighting and Rescue operation for the general public and also displayed Exhibition of various equipment's related to Fire Fighting, Search & Rescue, Swift Water/Flood Rescue, Medical First Responder (MFR), Urban Search & Rescue (USAR) and Lighting Equipment's for the general public at the Goa State Fire Force Training Ground.
Comment