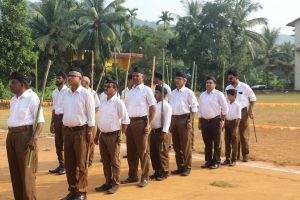 Goemkarponn desk
CANACONA: Asking the Sangh parivar to have faith in the works being carried out by Rashtriya Swayamsevak Sangh (RSS), RSS office-Bearer Sen Bandodkar said, 'All Hindus living in India should be saved. Sangh (RSS) does a lot of social awareness work. And that work will be completed without fail'.
RSS Office-Bearer Sen Bandodkar was addressing Swayam Sevaks at the Canacona division of Rashtriya Swayamsevak Sangh organized a procession and Path Sanchalan on the occasion of Vijayadashami on Tuesday.
Bandodkar was speaking to the Sangh members after taking 'A procession which began from the premises of Shri Mallikarjun Vidyalaya in Char-rasta and culminated at Shri Gaitonde Grounds, where a weapon worship program was held. Gulab Tengse was the chief guest and Srikant Gaonkar, the office bearer of RSS Canacona branch were present on the platform. Tengse conducted the Weapon worship program.
Speaking further, Bandodkar said that Rashtriya Swayamsevak Sangh was established in 1925.' In the next two years, the Sangh will complete its hundred years and the number of branches of the Sangh should increase accordingly. Mahesasuramardini assumed various forms for 9 days and killed Mahesasura on the tenth day'. Bandodkar also called for giving suitable empowerment to the women, so that the fairer sex should also be made aware of their strength. 'In this 'Kalyug', Sangh (RSS) is a great power; Durga, Lakshmi, Saraswati meet on Vijayadashami day.'
Tengse in his pravachan said that there are no leaders in democracy, but people at their best always, live for others.'
While Canacona MLA and Speaker Ramesh Tawadkar, Canacona BJP Mandal President Vishal Dessai were amongst the attendees at the Path Sanchalan, on this occasion, some of the senior RSS volunteers Kamat, Satish Bhat, Dr. Ayya, Laksha Shet, Dr,.Pushpa Ayya, Pramod Prabhudesai, Shaila Prabhu Desai, Dilkush Shet, and a large number of others were present.
Elsewhere in the taluka Dusshera was celebrated with great pomp and gaiety at particularly at Poinguinim an Loliem, Possessions were taken out participated by large number of devotees including women folks, in the various forms of rituals including Purann-recitals, conducts of Puja's, to mark the day of Vijaylaxmi.
Comment