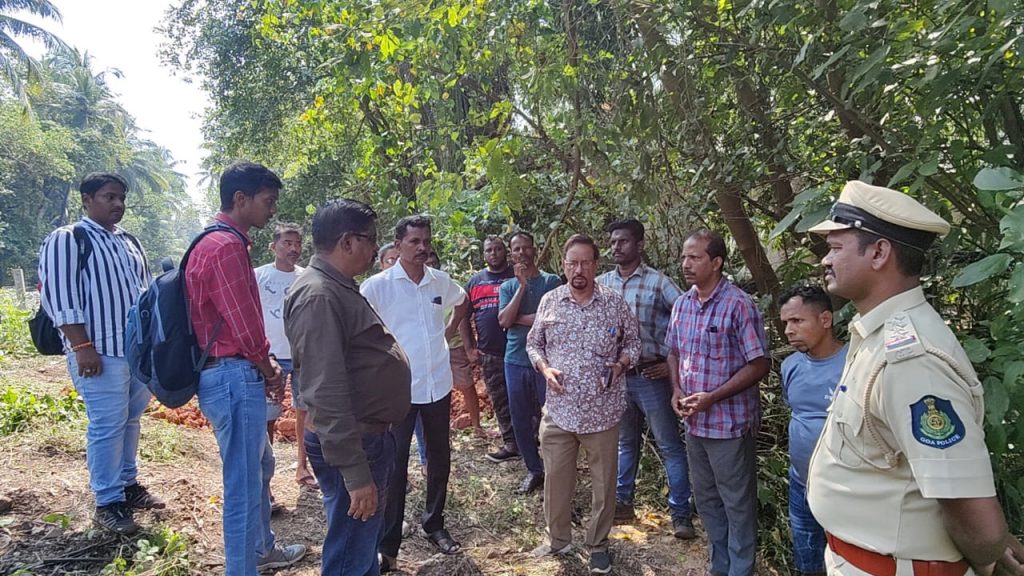 Goemkarponn desk
VELSAO: Cortalim MLA Anton Vas, on Saturday along with Velsao panch members and social activist Roquezinho D'Souza convened joint inspection with Railway authorities in the presence of Verna police inspector Diego Gracias.
Vas, during the joint Inspection, met the people of the area and heard their grievances and put them forth before the Railway authorities.
Vas also personally asked the Railways to measure the proposed area of laying of double tracking to assess the proximity of the houses.
Later Vas told the panch members and Railway authorities that he would retake a joint meeting to address the issues of the people
"There was a noise over double tracking, and I have personally come to the site to understand the issues. I have realised that there are many issues like access roads to traditional houses, the proximity of proposed tracks next to houses and other issues. I have now told the railways that we will take such issues of the people before the Dy Collector during a meeting next week where Velsao Panchayat, locals and railways will be present. I will further take the inputs, grievances and issues of the people during this meeting with the CM," said Vas.
Social worker Roquezinho D'Souza said that the people faced many issues, but no one was addressing the problems.
"We have seen a lot of noise but no solution. We have seen that people are being misguided, and they have never spoken about real issues. Any issue has a resolution, provided we have engaged in talks. We have now called our MLA Anton Vas here, and he has assured us to take our problems with the railways and even the CM, and we are now hopeful that our problems and grievances will be addressed," said D'Souza.
Meanwhile, RVNL in charge Sadashivan said that Railway was ready to listen to the people and find solutions while the double tracking was being taken up
"To date not a single person has approached the railways with the people's issues, and they come and only tell us to stop the works. The MLA has now asked to attend a joint meeting with the Dy Collector and locals along with Velsao Panchayat members. We will listen to the issues of the people and find a solution to their issue, and we can also see how best we can benefit the locals while carrying out the double-tracking project," said Sadashivan.
Comment