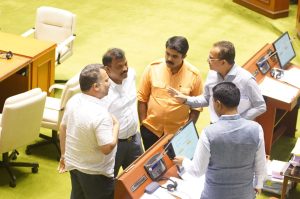 Goemkarponn desk
PANAJI: The Goa Legislative Assembly witnessed noisy scenes as Calangute MLA Michael Lobo and Saligao MLA Kedar Naik demanded stopping of "dumping" additional waste at Saligao Waste Treatment Plant.
Shockingly, the while South Goa has 100 TPD plant at Cacora, which started commercial operation, only 18 tonnes is being treated there.
This wa also admitted by the waste Management Minister Atanasio Monseratte.
"The capacity of Solid Waste Management Facility at Saligao was enhanced from 100 TPD to 250 TPD in 2021 considering the increasing waste quantity over period and to cater to the future demand of 10 years," he said.
Monseratte further said that on 11″ July 2023, the Department of Urban Development filed a report in High Court wherein it was mentioned that 30 tons of waste shall be transported to Saligao facility from MMC and therefore MMC was allowed to send 30 tons of waste to Saligao facility as per High Court Order.
"Presently MMC is sending on average about 27 tons of wet waste daily and total average waste received in July at Saligao facility including MMC wet waste is about 240.6 tons. It may be noted that the waste received from MMC is on temporary basis and which could be till the facility reaches its designed capacity of 250 tons," he said.
Monseratte, however, admitted that the Saligao Facility is on the brink of reaching its full capacity and further from August end, it will start receiving additional garbage from Beach-belt Panchayats in North Goa.
"The waste transporting vehicles should be complying to Solid Waste Management Rules 2016, i.e. properly covered and equipped with leachate collection tanks, so as to ensure that there is no leachate dropping/leaking while transportation. Vehicle getting waste from Sonsoddo to Saligao SWMF are covered and equipped with leachate collection tanks," he said.
He stated that the GWMC has also issued several letters to other local bodies getting waste to Saligao facility to provide leachate collection tanks and to ensure that vehicles are properly covered and that there is no dropping leaking of leachate from the vehicles transporting waste.
Considering the issue raised by Calangute MLA, he said, Govt will monitor all the vehicles getting waste at Saligao facility and details will be forwarded to GSPCB to take action against all the vehicles, which are not equipped with leachate collection tanks and which are not properly covered.
Speaking about the Cacora Plant, Monseratte said, Solid Waste Management facility at Cacora is completed and has already started commercial operations from May 2023.
"Capacity of Cacora Facility is 100 TPD and is presently receiving only about 18 tons of waste on daily basis. The cost of setting up Cacora facility is about Rs. 173 crores, of which 75% of cost is Govt. share and 25% of cost is borne by concessionaire," he said.
He said presently the Govt. is bearing all the cost and the local bodies are not charged any tipping fees for the waste being treating at facilities.
"The present need of the hour is that the Cacora facility is supplied with maximum quantity of waste from the four Taluka's of Canacona, Sanguem, Quepem and Dharbandora," he said.
While the Minister did not reveal this, but the sources said the Govt is paying the concessionaire Rs 90 lakh per month for treating 100 TPD.
"This was agreement with the contractor at Cacora. If they are getting less garbage is not problem of contractor," sources said.
Comment