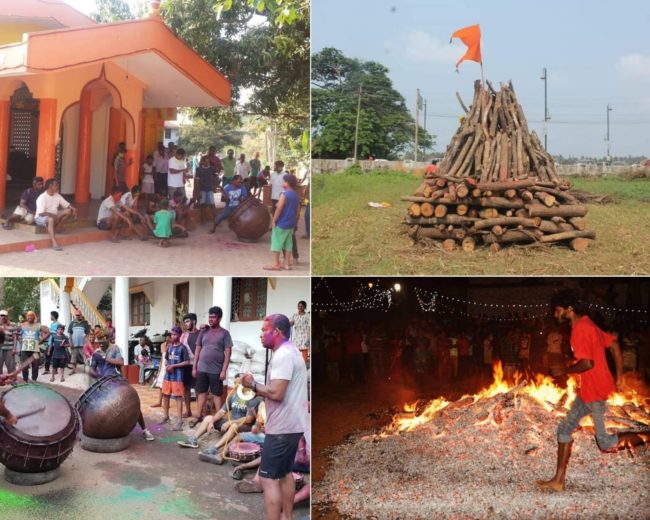 By Ramesh Ghadi
Goemkarponn desk
SALIGAO: On Friday, the picturesque village of Saligao celebrated the Dhulwad / Shigmo and famous Homkhand.
It's a big day for Saligao, Nagoa and Calangute villagers as they celebrate the annual Dhulwad / Shigmo festival on the 9th day of Holi.
Saligao Dhulwad preparation began in the morning at 9.00 am by offering annual prayers to the gram devtas, and then the wood stacking for the Homkhand (wood-fire) began.
Romat parade began with prayer- garane at Laxminarayan Mandir Muddavado around 3.00 pm, and then it proceeded to the mandir of Gram devta Shri Sharvani Mandir at Salmona.
After receiving the blessing of Devi Sharvani, the Romat (Dhol-Tashe group) proceeded on the beats of dhol – tashe to Dhonvado and took an annual stop at Parulekar residence to proceed to Shri Vetal mandir Molebhat after taking an annual stop at Aquem Vaddo.
Removing Holi coconut from oiled slippery 10mts high Holi (tree trunk) is big evening fun for our young, energetic youth at Shri Vetal Mandir Molebhat. Their skill, guts and teamwork to remove that coconut is an annual attraction of the evening.
After that the romat proceeded to Muddavado Rashtroli Sevastan ( Mand}. Flames of burning Homkhand on the Saligao Tinto is from there.
Around 9.30 pm Homkhand ..the firewalking ritual will begin… It's a day full of fun.
For the last two years, teh festival was organised on a lower scale due to the COVID19 pandemic, but this year, as the cases are down, the locals are leaving no stone unturned to make it a grand affair.
Comment