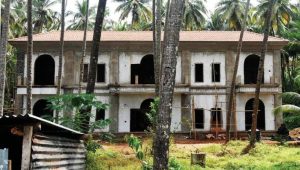 Goemkarponn Desk
DELHI: A Division Bench of the Supreme Court has issued a notice in a Special Leave Petition filed by the Save Old Goa Action Committee, assailing an order passed by the Bombay High Court.
By its impugned order, the High Court(Goa Bench) has set aside an order passed by the Archaeological Survey of India (ASI) to demolish a residential house, in the UNESCO heritage zone in Old Goa city citing violation of natural justice principles.
The Bench, comprising Justices BV Nagarathna and Ujjal Bhuyan, while issuing notice, expressed concerns about the High Court setting aside the said matter prematurely instead of remitting the matter back to ASI for re- consideration.
"In the circumstances, prima facie, we find that the matter ought to have been relegated to the Additional Director General, Archaeological Survey of India, New Delhi for re-considering the matter, after giving reasonable opportunity to all sides of being heard and by following the principles of natural justice. Instead the High Court has simply quashed notice(s) and concluded the proceedings.
The Save Old Goa Action Committee (SOGAC) had been protesting against the construction of the bungalow for over a year and had also filed a petition in the Supreme Court. The protests intensified after over 3,000 people gathered at St Cajetan Church in Old Goa on November 21, 2021, demanding that the government take action against the allegedly illegal structure.
The ground-plus-one structure with a tiled roof stands between the Mandovi river and St Cajetan Church and is located close to the Viceroy's Arch in Old Goa's heritage precinct. The protest has been ongoing near the St Cajetan Church, behind which the contentious structure stands
Comment