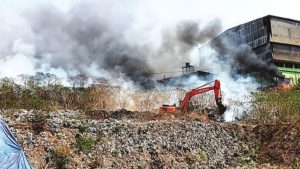 Goemkarponn desk
PANAJI: The Shadow Council of Margao has called for an investigation into the repeated fire incidents at Sonsodo and wondered whether these incidents are timed with the High court matter hearings.
SCM Convener Savio Coutinho made a scathing attack on the Margao Municipal Council, and alleged that the repeated fire incidents are to coerce the Hon'ble High court into agreeing to the dubious schemes proposed by them at the cost of crores of rupees from the public exchequer.
Coutinho stated that the Council has been repeatedly giving timelines over execution of works at Sonsodo, but themselves fail to fulfill the deadlines. Fire Hydrants were to be installed at Sonsodo, till date nothing has come through.
"The Shadow Council for Margao has time and again called for handling of the accumulated waste departmentally at a much lesser expenditure. We have even volunteered to assist the Council without any benefits in return", Coutinho said.
The Council however is desperate in going for a tender for Remediation for the third time after spending over 4.50 crores on the previous 2 jobs of Remediation of accumulated waste inside Sonsodo shed, he said further. These fire incidents prior to the scheduled hearing, smacks of desperate attempts of putting pressure on the Hon'ble High court to agree to some shortcut methods for the handling of the accumulated waste from the shed by spending crores of rupees of taxpayers money, Coutinho lamented.
Sonsodo continues to be the hen that lays Golden eggs, as till now no authority desires to deeply analyze how dubious proposals are executed worth crores of rupees, but sadly without yielding any positive results, Mr. Coutinho charged.
Comment