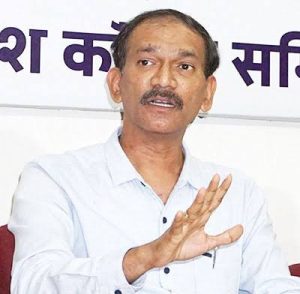 Goemkarponn Desk
PANAJI: Alleging that proposed amendments to 'The Goa Land Development and Building Construction Regulations 2010' is done in favour of greedy land investors and dealers, Former President of Goa Pradesh Congress Committee Girish Chodankar has demanded to scrap it, else it will be clear that BJP government is working overtime to destroy beautiful tiny state.
"We strongly object to these amendments. It appears that the deceptive and defective State Government, particularly TCP and forest Department, is working overtime for the greedy land investors and against the interest of the State, the people and environment," Chodankar said.
"This destructive and sick state of affairs and absence of reason or logic has left the present State Government in the hands of puppets and lovers of Crony-capitalists. Our State, which is totally dependable for food, fruits, vegetables from other States is now willing to further destroy our Agricultural and forest lands for to satisfy rich outsiders by permitting constructions of bigger Farm Houses," he pointed out.
"The proposed amendment is in no way in the interest of the people of Goa and TCP department should stop presuming that the land can be only used for constructions and no other use of land is possible in the state of Goa," he said.
"We strongly demand that the proposed amendment should be scrapped. We also request all the people of Goa & various NGOs to immediately rise and protect our State and the future generations, before it is irreversibly destroyed by vested interests and corrupt politicians. We need similar movement like 'Goa Bachao' to safeguard our land," Chodankar said.
Chodankad claimed that the Government brought in the Agriculture bill saying not to sell agricultural land but at same side TCP Minister Viswajit Rane getting in the controversial Farm house Clause to sell and Destroy Goa environment. This is to hoodwink Goans.
Chodankar urged people to know the real faces of politicians in the power and to unite to protect Goa and its nature.
Comment