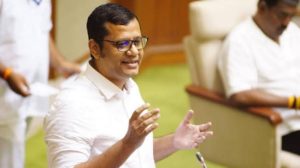 Goemkarponn Desk
MARGAO: Leader of Opposition (LoP) Yuri Alemao today demanded stringent action against units in Cuncolim Industrial Estate if involved in illegalities, pollution and loss to state revenue.
Reacting to the Joint Inspection of three Government Departments in Cuncolim Industrial Estate on Friday, 17th March 2023, Yuri Alemao again demanded for a Nodal Agency to monitor activities in Industrial Estates.
"My Legislative Assembly Questions compel Government to send Labour Commissioner, IDC Managing Director & Inspector of Factories & Boilers to Cuncolim Industrial Estate to conduct Joint Inspection of various Units. Stringent action needs to initiated against all illegalities," said Alemao
He further said that with blatant violations coming to the fore during the Inspection, time has come to seal all such Units in Cuncolim Industrial Estate which have turned out to be Dens of Illegalities & Irregularities causing Air & Water Pollution, Loss to State Revenue & Illegal encroachments.
"I had raised the issue pertaining to Air & Water Pollution, Overproduction and Loss to State Revenue due to non-payment of GST on 19th January 2023 in the third Session of Goa Legislative Assembly. I have tabled Legislative Assembly Questions for the coming session to know the actions initiated by the Government till now," informed Yuri Alemao.
Cuncolim Industrial Estate has turned out to be a curse for Cuncolim Residents due to rampant illegalities & pollution in last 10 years. It is with the connivance of the Government Authorities & patronage of past MLA all such illegalities continued. I am committed to put a permanent full stop to all such violations and give relief to Cuncolkars, Yuri Alemao said.
I have also moved a Private Member Resolution urging Government to appoint a High Level Inquiry Commission of Experts under Retired High Court Judge to investigate activities of Industrial Estates in Goa and check irregularities which are main cause of Pollution, Blasts & Loss to Government Revenue, Yuri Alemao said.
Comment