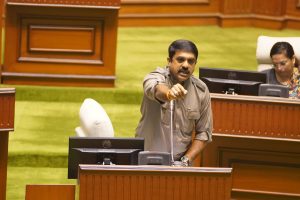 Goemkarponn desk
FATORDA: Goa Forward Party (GFP) President and Fatorda MLA Vijai Sardesai today has written to the Chief Secretary (CS) to immediately set up Women's police station in every taluka as a follow up to the calling attention raised in the recently concluded assembly session.
"As a follow up to the Calling Attention raised in the recently concluded Monsoon Session of the Goa Legislative Assembly, I write to you to reiterate the need to establish women police stations in every taluka of Goa," said Sardesai.
He further said that with the rapid growth tourism, and the increase in the number of working women, there is a need to ensure that our women feel safe, secure, and empowered in all respects.
"The establishment of women police stations in every taluka is a significant step towards achieving this objective," he added.
Vijai said that women police stations are a decisive response to the unique needs and concerns of women and they provide a safe and welcoming environment where women can report crimes, seek assistance, and find support without fear of judgment or prejudice.
"Women police stations are staffed with female police officers who are trained to handle sensitive cases involving women. This creates a more comfortable and empathetic atmosphere for victims to share their experiences and seek help," he said.
The MLA also said that Women police stations can expedite the handling of cases related to crimes against women. The dedicated personnel can ensure quicker response times and swifter investigation, leading to timely justice.
"These stations can also focus on community outreach, workshops, and awareness programs to
educate women about their rights, personal safety measures,and legal avenues available to them," he said.
Sardesai said victims of gender-based violence often require psychological and emotional support. Women police stations can collaborate with counsellors and support groups to provide sensitive and holistic assistance to victims.
Reduced Stigma: The establishment of women police stations will encourage more women to come forward and report crimes without fearing societal stigma or judgment.
Comment