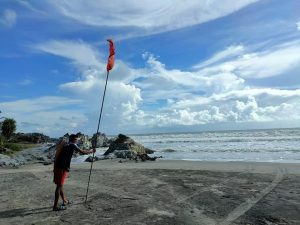 Goemkarponn desk
PANAJI: The long Independence Day weekend, which saw droves of tourists visiting Goa, witnessed seven rescues along the state's beaches, where swimming incidentally has been banned on account of rough sea conditions due to the ongoing monsoons.
Calangute beach reported the most rescues with four domestic tourists rescued by Drishti Marine's lifesavers over the extended weekend. The rescued persons include a 40-year-old man from Powai in Mumbai, who ventured into the sea on Monday under the influence of alcohol and was caught in a rip current. He was pulled out of the water by lifesavers, who conducted a check on his vitals, before administering him oxygen. He was sent to the nearest health centre for further examination.
A 24-year-old man from Uttar Pradesh, who was at Calangute beach with a group of five other friends on Monday, found himself trapped in deep water and was unable to swim back. Lifesavers rushed to his rescue and brought him safely back to the shore.
Drishti Marine's lifesavers once again moved into rescue mode at Calangute beach over the weekend due to two separate incidents, involving tourists aged 32 and 35 years from Mumbai and Karnataka respectively. Both persons were struggling to swim back to shore after being hit by strong waves.
A double rescue was reported at Baga beach, with two men from West Bengal, aged 34 and 26 years, who were caught in a rough rip current and had to be brought back to the shore by lifesavers with the help of a rescue tube and a surfboard.
A senior citizen from Uttar Pradesh, aged 70 years, was also rescued at Cavelossim beach during the extended Independence Day weekend. He was swept into deep waters, after he lost balance after being struck by a wave. Responding swiftly, Drishti Marine's lifesavers rushed to the scene and used a rescue tube to bring him back to shore. After assessing his condition, his vital signs were found to be stable.
Incidentally, on August 15, Drishti Marine's lifesavers also made time to celebrate Independence Day by hoisting the national flag and singing the national anthem near the lifesaver towers at Calangute and Colva beaches.
Comment