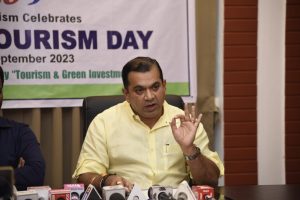 Goemkarponn Desk
PANAJI: Tourism Minister Rohan Khaunte reacting to the shack issue claimed that there was political interference as the root cause of the issue.
"They were on record that for the first time, the government met with for 8 times. Every time they come with the line they are not taken into confidence. We have taken all the inputs from them," said Khaunte
He further said that If they had any issue, they should discuss it and the shack policy is very clear, we know that we have discussed with them and come out with the policy.
"I am with the traditional shack operators to support them with whatever they need but they cannot take government for granted with political tweaking and coming everytime with different statements," he added
Khaunte also condemned their statement and said that they were free to talk, if they were not participating.
"We are here to ensure that good tourism happens and not politics," Rohan
The state government's concept of 'Goa beyond beaches' is about moving tourism from the coast to the hinterland and is a step towards encouraging green and sustainable tourism, the minister said.
Goa's Homestay Policy aims to encourage hinterland tourism and create employment for locals, Khaunte said, citing that hinterland tourism will benefit the local communities in a big way.
Comment