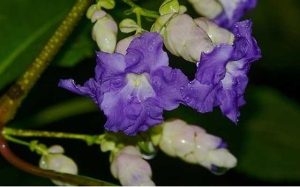 Goemkarponn desk
PANAJI: Not only coastline erosion, but rainfall and fruiting patterns, and flower blossoming seasons have been altered due to the impact of climate change in Goa, say environmentalists and experts.
According to noted environmentalist Rajendra Kerkar, the impact of climate change can easily be seen in the Western Ghats, from where the rivers Zuari and Mandovi originate.
"The flow of rivers has become less and it is not as it was in earlier times. These things are happening due to the destruction of forests. In the last two years, there has been rampant cutting of trees and forest fires have been taking place frequently due to extreme weather conditions," Kerkar said, adding this year there was a crisis of potable water for the people living along the Mhadei Wildlife Sanctuary.
Karvi, also known as Strobilanthes Callosus are green shrubs that bloom once in eight years and the flowers vary in colour from purplish-blue to pink.
Rich in pollen and nectar, Karvi flowers attract a wide range of species of butterflies, birds and insects including honey bees.
Kerkar said that the Karvi honey is relished by sloth bears and other wild animals that are now missing out on this vital source of nutrition for them.
"The blossoming of Karvi has been impacted due to climate change," he rued, adding that there was no mass flowering of Karvi in recent times in the Mhadei Wildlife Sanctuary in the Western Ghat areas of Sattari.
Kerkar said that climate change has impacted Western Ghats, coastal areas and biodiversity in the state.
"We can see coastline erosion taking place in the coastal areas," he said.
Noted environmentalist Abhijit Prabhudesai, told IANS that climate change has impacted not only the coastlines but also fruiting patterns of fruit-bearing crops and trees.
"Many farmers tell us that climate change has impacted cashew production and other activities. Even fishermen say that fish are moving to other places for breeding as the climate here is not suitable," Prabhudesai said.
"Our beaches are becoming shorter due to coastline erosion. Fruiting patterns and flower blossoming seasons have been altered due to climate change. Even the number of migratory birds has become less," he said.
"As per the 'Goa State Action Plan for Climate Change' 15 per cent of the land in Goa will be lost due to flooding and other reasons," he said, warning about the implications of environmental degradation and the consequent climate change.
Water Resources Department Minister Subhash Shirodkar is on record saying that climate change is causing floods in Goa.
"In the last two to three years due to climate change and the resultant shifts in rainfall patterns and other issues, floods are taking place more frequently," Shirodkar said.
According to Minister for Environment and Climate Change Nilesh Cabral, the National Centre for Sustainable Coastal Management (NCSCM) in its 'Beach Carrying Capacity Report' has observed that overall, for a coastal stretch of about 105 km in Goa, 35 per cent of the coast is rocky terrain, 20 per cent is stable, 27 per cent is under erosion and 17 per cent of the coasts experience accretion.
"River mouths and port areas experience significant erosion characteristics and pocket beaches of Goa are either stable or are accreting," the report further said.
Nilesh Cabral said that the State Government has also initiated the process of implementing soft measures for the control of erosion.
Around 27 per cent of Goa's 105-km-long coastline is under the threat of erosion, due to the increase in sea level and human intervention. It has become a major challenge for the Goa government to take preventive measures and save the beautiful beaches of the coastal state.
This occurrence may impact its tourism economy in the years to come. Hence environmentalists have urged the Goa government to take action now. MLAs representing the constituencies that fall along the coastline are raising their voice and asking departments concerned to act on it swiftly.
Leader of Opposition Yuri Alemao said that it is important that measures be taken to protect the coastal areas from erosion.
"The state Government should study ISRO's report revealing that Goa has lost around 15.2 hectares of land due to coastal erosion in ten years," Alemao said.
Even Tourism Minister Rohan Khaunte admitted that coastline erosion had become a major challenge.
"Coastline erosion is a major challenge. It is a threat (to the tourism industry) the way it is taking place. Beaches are getting washed out. Though we give permission to erect shacks, however they are not able to occupy a longer stretch (in the permissible limit), as the beaches have been washed out," Khaunte said.
He said that it was very important to adopt measures to stop this erosion. "We can adopt technologies to ensure that we get our surface back. Techno-commercial concepts can be adopted with the help of the environment and other departments," he said.
Comment