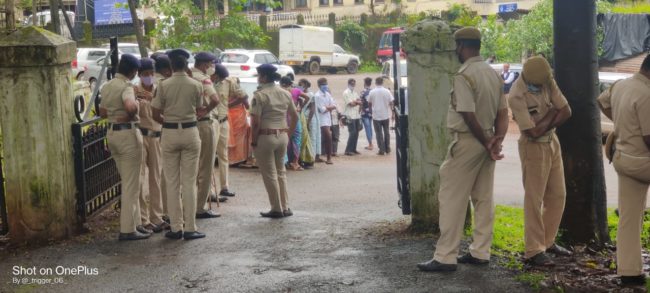 Goemkarponn desk
VALPOI:
The villagers of Shel Melauli in Sattari taluka are up in arms again over the drinking water, bad road and collapsed bridge issue. The villagers have threatened to block the State highway from Valpoi to Ponda if their demands are not met.
Today, many citizens from Shel Melauli marched to the Deputy Collector and Water Supply Office of Valpoi to discuss the issue.
Since July 23, when floods hit the village, the villagers said that there has been no proper water supply.
Also, the collapsed Paikul bridge has caused major commuting issues.
They said the PWD has been supplying water through tankers, but it is not enough. Several complaints have been made to teh PWD, but there has been no serious action, they said.
The villagers reached teh DY Collector's office at 11, but since he was not there, they held the dharna there, and finally, the officer arrived at 12.30 pm.
The delegation had a detailed discussion with Rajesh Ajgaonkar and Mamlatdar Dashrath Gavas. The delegation was led by Ajit Desai, a local Panchayat Member Arjun Melekar and local Shankar Naik.
They requested the Deputy Collector and the Mamlatdar to pay serious attention to the drinking water problem.
They explained that the collapsed Paikul bridge has created drinking water problems in the villages. The villagers also questioned why the government has not initiated action to re-connect Paikul bridge.
Deputy Collector assured that he would pay serious attention to this. Similarly, when asked about the preparations for constructing a new bridge, he said that he has contacted the WRD iin this regard and assured that the process is underway.
Ajit Desai told reporters that even after a month of floods, the government has no action.
There is no road to commute, teh authorities have repaired bandharas, and it is okay for pedestrians but not vehicles.
He said that at present, the government has provided road access through Bondla, but the Forest dept has given a particular time to travel on this road.
The locals have warned that if their demands are not met in 15 days, they will see anti-IIT kind of agitation again.
Comment