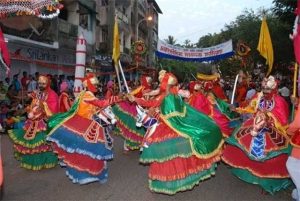 Goemkapronn desk
PONDA: 'Shigmotsav', a spring festival celebrated in Goa every year, began from the temple town of Ponda in South Goa on Wednesday, which will be observed across the coastal state till March 21.
Shigmotsav is one of the major festivals of the Hindu community in Goa. The government had started celebrating this festival at the state level from 1991. Since then, the youth of the state have been showcasing their talent by making mythological tableaux.
On March 11, a Shigmotsav parade will be held in state capital Panaji.
Ritesh Naik, Chairperson of Ponda Municipal Council, said, "In 1991, then Chief Minister Ravi Naik took the initiative of celebrating the festival at the state level in all talukas. As per tradition, the celebrations start from Ponda before moving to other towns across the state."
During the 14-day festival, processions featuring contemporary floats and traditional Goan dance are taken out in different towns. Best float decorators and performers in the processions receive awards.
On the first day in Ponda, indigenous folk dances of Goa were performed by cultural troupes to mark the occasion.
Comment