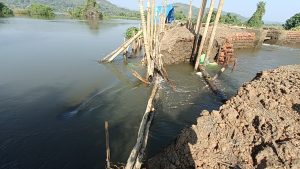 Goemkarponn desk
PONDA: After the July incident, a breach in Bandharas hit farmers at Shiroda, who now fear losing their paddy crop cultivated by them.
According to farmers, the Rubi (Vaigani) paddy khajan cultivation at Shidotte, Shiroda, was submerged under saline water yesterday (24) December night due to a rise in river water level; the farmers have started work to repair the breach in Bandhara on war footing as they fear the breach in Bandhara could further widen if it is not repaired immediately.
Fed up with frequent repairs and unable to bear the high cost of repairs, the farmers now demanded a permanent construction of Bandhara to protect the field.
Shiddote Khajan Farmers Association President Ratnakar Naik and Milind Naik said around 400 farmers have worked hard for the past month, tilling their land and sown seeds recently, but a breach in Bandharas spoiled their hard work.
They are worried that If Bandhara is not repaired immediately, they will lose their hard work and crop.
It's four to five years now they have been making an effort with the government to construct a permanent Bandhara located at the riverside, but all efforts are in vain.
They said the local MLA and Minister Subash Shirodkar is providing help and labour for repairing Bandharas; however, once saline water enters into the field, there are chances of crop damage and waste of hard effort, and hence they want permanent Bandharas.
They said today, their generation is any how manages hard work, but if agricultural land is not protected, future generations are less likely to turn to agricultural activities.
Comment