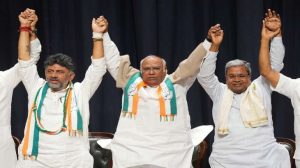 Goemkapronn desk
NEW DELHI: Senior Congress leader Siddaramaiah will be the next chief minister of Karnataka and DK Shivkumar will be his deputy, according to the reports. The Congress party has reached the decision with the two leaders agreeing to a rotational formula. Siddaramaiah will be the CM for a period of 2.5 years. After which, Shivakumar will be takeover as the CM. The swearing-in ceremony will take place on Saturday, May 20, 2023.
'In larger interest of party…': DK Shivakumar on Karnataka power-sharing
Karnataka's new deputy CM, DK Shivakumar said he agreed to a compromise in the larger interest of the party.
"We have a commitment before the people of Karnataka. Parliament elections are ahead. So, I have to bow to the AICC president and the Gandhi family. In the larger interest of the party (I have agreed to the formula) and why not, because sometimes the ice should break. Ultimately, there is a responsibility towards what we have a commitment to the people of Karnataka and we have to deliver," he said.
Surjewala held breakfast meeting with Siddaramaiah and Shivakumar
Karnataka Congress leaders Siddaramaiah and DK Shivakumar along with the party's state in-charge Randeep Surjewala held a breakfast meeting with the party's general secretary-organisation KC Venugopal earlier today
Congress chief Kharge to invite opposition leaders for swearing-in ceremony
Congress President Mallikarjun Kharge is expected to invite opposition leaders to attend the swearing-in ceremony of the new Karnataka chief minister and deputy chief minister, according to sources.
They said that Congress leader Rahul Gandhi, Rai Bareli MP Sonia Gandhi, party general secretary Priyanka Gandhi Vadra and other senior party leaders will attend the event.
Earlier, Mr Kharge and Rahul Gandhi had made two offers to Mr Shivakumar at a meeting in Delhi on Wednesday. But the meet remained inconclusive, with the top post contender turning down both options, sources said. Another meet was held later in the evening.
Sources said the first option gave Mr Shivakumar the post of the state's single Deputy Chief Minister post alongside his current job — heading the state party unit. He was also offered six ministries of his choice.
There was also Option 2 — power sharing between Mr Shivakumar and Mr Siddaramaiah. Under this, Mr Siddaramaiah was to get the top post for two years, and would have been followed by Mr Shivakumar for three years, sources said. But sources said neither Mr Shivakumar nor Mr Siddaramaiah were ready to go second.
Comment