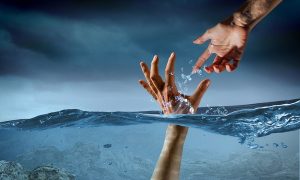 Goemkarponn desk
Panaji: Six Russian nationals, two each at Calangute, Mandrem and Arambol beaches, were rescued by Drishti Marine lifesavers over the busy weekend, which saw 12 persons rescued from drowning off the coastline.
At Calangute beach, two Russians, including a minor and a 36-year-old woman were rescued after a sudden wave engulfed them, necessitating their rescue. At Mandrem, two other Russians, aged 38 and 34 years were rescued from drowning in two separate incidents by Drishti Marine lifesaver Sakharam Bandekar who used a rescue tube and a surfboard to save them.
Mandrem beach witnessed a double rescue involving a couple from Chandigarh, both aged 32 years. After ignoring the lifesavers' warnings against entering the sea due to the rough currents, the couple struggled to fight against a rip current. Drishti Marine lifesavers, Avinash Maiskar and Tanaji Bhagat rushed into water using a surfboard and a rescue tube and brought both persons back to shore safely.
A 44-year-old resident from Karnataka was saved by lifesavers Nilesh Dhuri Chopdekar and Hari Chopdekar, when a rough rip current engulfed him off Calangute beach. Over the weekend, a 13-year-old boy from Karnataka, who was reported missing, was located at Calangute Beach. He was handed over to his father by Drishti Marine lifesavers, who had conducted a search of the area within fifteen minutes after the boy was announced missing.
A Delhi resident, aged 23 years, along with two other friends were swimming off Arambol beach, when they were suddenly engulfed by a rough wave. Drishti Marine lifesaver Umesh Phadte, rushed into water using a surfboard and brought the victim to shore. At the same beach, a 38-year-old man from Maharashtra suddenly got pulled into a rip current, forcing lifesaver Ano Malekar to rush with a jetski and rescue him. Another Russian couple, both aged 54 years, were pulled into the deep sea due to rough undercurrents at Arambol beach. Drishti Marine lifesaver, Chetan Bandekar rushed into water using a surfboard and brought both the individuals back to shore.
Patnem beach also witnessed the rescue of a 38-year-old man, who was struggling to escape the rip current. Drishti Marine lifesavers, Sachin Kirloskar, Vinesh Mugdekar and Vithoba Velip rescued the man with the help of a rescue tube and surfboard.
At Bambolim beach, Drishti Marine lifesavers assisted in the arrest of a thief, who had stolen articles belonging to two foreigners, one of whom was swimming. A thief grabbed their belongings and tried to make a run for it. Upon noticing their desperate hails, on-duty Drishti Marine lifesavers, along with the help of locals, caught the thief and handed him over to police personnel.
Comment