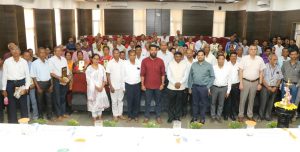 Goemkarponn desk
PANAJI: Emphasising the need to boost farming activities in the state, Cumbharjua MLA and chairman of Goa Housing Board Rajesh Faldessai assured to stand by farmers in resolving issues faced by them and urged sluice gate operators to stop their malpractices.
He was speaking at the felicitation of farmers at a programme organised by the Progressive Farmers Club, Neura, Mandur, in collaboration with Union Farmers Club, Carambolim-Corlim.
Also present were the Speaker of the Goa legislative assembly Ramesh Tawadkar; St Andre MLA Viresh Borkar; director of ICAR, Dr Anurag Raizada, sarpanch of Carambolim panchayat Kushta Salelkar; government officials, and other dignitaries.
"I have been fighting for the rights of farmers almost every day. I urge sluice gate operators who have taken these on a lease not to harass the farmers. I will always stand with the farmers. In the pursuit of a large catch of fish, don't put the farmers in peril. Fields are being destroyed as sluice gate operators deliberately release saline water in the fields in connivance with some government officials. This year, after nearly 25 years, farmers will benefit after we have managed to stop water ingress into fields. Farmers must cultivate the fields and vegetables. We will provide tractors and fertilisers for the farmers, but they must toil and cultivate their fields," Faldessai said.
In his address, Tawadkar also spoke about promoting cultivation. "We need to protect agriculturists and promote cultivation. A better support price for the produce is also essential. We need to find solutions to the problems farmers face," he said.
Borkar said that bunds need to be repaired so that fields can be cultivated. "Famers and agricultural activities are declining. We should not allow fields to go fallow. If farmers face losses, we need to speed up the compensation process so that the farmers' losses are minimised. Also, repairs of bunds must be prioritised as the fields are submerged," he said.
Dr Raizada raised the concern of declining monsoon and water resources for farming and stressed the need for water conservation and rainwater harvesting.
Comment