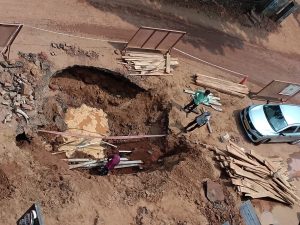 Goemkarponn desk
PANAJI: Just as the Monsoons approach closer, the mudslinging over the mess of Panaji Smart City has already begun with the politicians involved in a blame game.
As experts speculate, Panaji could see worse floods these monsoons, owing to the incessant digging and sub-standard works of Smart City and PWD Sewerage works; the Panaji MLA has refused to take any blame, saying the "Chief Minister is Monitoring the works, and he does not want to interfere."
The Opposition political parties and the media have consistently raised the issue, but it has fallen on deaf ears.
Panaji BJP MLA Atanasio Monserrate has alleged that the ongoing work of Panaji 'Smart City' is sub-standard.
"I hope I am wrong. But the work of Smart City is substandard," Monserrate said.
On many occasions, the Congress had criticised the BJP government over the alleged sub-standard work carried out for the 'Smart City' project.
"I am just waiting and watching. Chief Minister Pramod Sawant has taken charge… My concern is that people should not suffer. I have not interfered because one consultant has been paid Rs 8 crore. I believe he should have been under the supervision of PWD. Everyone is trying to wash their hands of it," Monserrate said.
"I don't say whether the consultant for the project has failed or not. (This factor) we will come to know during monsoon season. I feel that substandard work is taking place with regard to the Smart City. I had done inspections at some places, and that work was not up to the standard. When a consultancy is hired, and crores of rupees are spent on them, it is their job to deliver," BJP leader Monserrate said.
"I am not a technical person. Let us see what will happen. There should be some supervising authority to monitor the work. There should be a local person to see the work. One should be aware of whether sewage water is getting mixed with potable water. The quality of the work is not up to the standard. However, if everything goes smoothly (in the future), then it is fine," he added.
A day after Congress dared Union Urban Affairs Minister Hardeep Singh Puri to come to the Goa capital to review the 'Smart City' project, Chief Minister Pramod Sawant on Tuesday night inspected the work and said that it will not be paused but will continue in the rainy season.
Panaji has been dug up to lay a new sewerage network, along with creating new stormwater drains, underground utility lines, and shifting power lines underground.
Comment