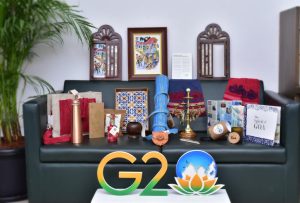 Goemkarponn desk
Panaji As each G20 meeting in Goa comes to a close, delegates leave with a specially curated souvenir gifted by G20 Goa. With Goa's commitment to upholding the vision of the United Nations' Sustainable Development Goals, the souvenir is a humble representation of the commitment to be environmentally conscious, with methods of production and waste-reduction. It is also in keeping with the theme of the G20 meetings- 'One Earth, One Family, One Future'.
"The Government of Goa and G20 Goa has put a lot of thought into choosing the right items for gifting, ensuring that each of them represents the essence of Goa and its cultural heritage, while also giving local artisans an opportunity to be associated with G20 through their skill and art," says Sanjit Rodrigues, Nodal Officer G20.
The message of sustainability and self reliance is echoed through each of the items. Besides, each gift present as part of the souvenir has various Goan elements that represent the essence of the state and its culture, traditions and ways of living.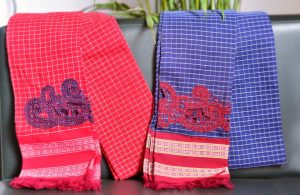 Recently, Amitabh Kant, Indian G20 Sherpa praised Goa for its culture and the gifts (souvenirs) at the SAI20 Summit, a meeting of the Supreme Audit Institutions-20 Engagement Group. Kant who lauded the efforts of G20 Goa said: "The gifts curated here in Goa for G20 are truly unique. It captures the flavour of Goa through each of the products, from the local tile, local crafts to the local handloom and every small item that is presented in the tray. It leaves a lasting memory for delegates as they go back from Goa."
Let's have a look at the gifts that the delegates are taking home from Goa: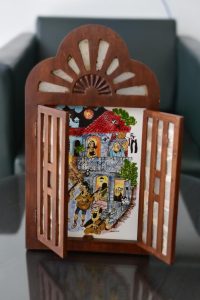 • Recycled wood serving tray with azulejo tiles inlay:Exclusive to Goa, the art of azulejo, or hand-painted ceramic tiles was brought to Goa by the Portuguese. Today made with traditional and modern techniques—hand-painted and fired by local artisans and are mostly in blue colour, for these souvenir pieces, recycled wood has been fused with the azulejo tile to create a beautiful utilitarian serving tray. All the items as part of the souvenir are placed in the tray.
• Kunbi tote bag and embroidered stole: Designed using organic jute and cotton fabrics, the tote bag highlights the Kunbi tribe's traditional red fabric. Instead of a zipper, a coconut shell button has been used to keep the bag totally plastic-free. The embroidered Kunbi stole brings together a contemporary influence on Goa's indigenous Kunbi fabric. The dyes used on the fabric are extracted from roots, the bark of trees, seeds, flowers, iron ore, rice (kanji), and Goan vinegar, all of which have medicinal properties. These have been made by fashion designer Verma D'Mello.
• Goan house window replica: The Goan house window has been a unique feature of Goan architecture over the centuries. With ornate features, these windows have rectangular pieces of fine mother-of-pearl shells fixed into wooden battens and help in filtering air and sunlight. For these replicas, Goan craftsmen have used recycled wood and material.
• Samai (traditional Goan oil lamp): The art of crafting brass metal in Goa still follows traditional techniques. The tree-like lamp with flower motifs on it that forms a part of the souvenir shows great craftsmanship and intricate detailing. Made by Nihal Shirgaonkar, a local artisan from Mapusa, the traditional design of the brass lamp for these pieces are those replicated from the temples in Goa—a traditional design. 300 such lamps of different sizes have been made using improvised quality of the material like brass and the wood to ensure it is of export quality.
• Terracotta lotus-shaped incense stick holder: The lotus is India's national flower and is abundantly found in ponds and lakes across Goa. And so, artist and potter Simonie Rego has incorporated it into the design of her incense stick holder made from terracotta. This can also be used as a table piece.
• Beach yoga mat: Made from using sanitised and repurposed plastic, and preventing 200 waste plastic bags and wrappers per mat from polluting water bodies and roadsides throughout Goa, these yoga mats have been up-cycled into durable woven fabric. The traditional Indian handloom method has been used to make these mats. The mats will be used for the International Yoga Day G20 session.
• Organic scented candle: The minimal-waste handmade candle is made with love from organic wax. It emanates the fragrance of a wild flower from the Western Ghats. It is placed in a glass container made from discarded beer bottles. The box too, is made from cardboard tubes.
• Copper bottle: Copper is known for its healing properties and has been traditionally used in India to promote good health and well-being. The antimicrobial properties of copper help in killing bacteria present in the water. Also, it is a great choice for those concerned with the safety and purity of their drinking water. The bottles can be refilled at water stations during the course of the meeting.
• Roasted organic Goan cashew nuts: Cashew nuts are an integral part of Goa's identity. A pack of 250 grams of cashew nuts is included along with a note that talks about how the cashew nuts were brought to Goa by the Portuguese and how Narayan Zantye from Goa first exported cashew nuts to the U.S. in 1928.
• Goan feni: The GI-certified Goan cashew feni has been bottled in a bottle with pearls and shells from Goa and touches of sustainable jute. The Kunbi fabric is draped around the bottle like a saree.
• Recycled stationery: A pencil, pen, and notebook are the stationery items that are hany and useful, especially during the meetings. They are fully biodegradable and eco-friendly. The pencils are made from recycled newspapers. The pens too, are made from recycled paper and are 95% plastic-free. Made with ethically sourced recycled cotton paper derived from waste fabrics of Khadi board, the books are a sustainable choice of G20 Goa crafted by a team of talented Goan artists and the cover is a typical Goan scene.
Besides these pieces, there is also a specially designed map and coffee table read on Goa that will ensure that Goa will definitely be etched in the mind of the visiting delegates.The souvenir is not just a collection of items but a representation of the rich cultural and natural treasures, and sustainable practices that are prevalent in Goa.
As part of the nine meetings to be hosted in Goa, Ministry of Tourism is all set to organise the fourth G20 Tourism Working Group meeting and Tourism Ministerial Meeting scheduled from 19th June to 22nd June.
Comment